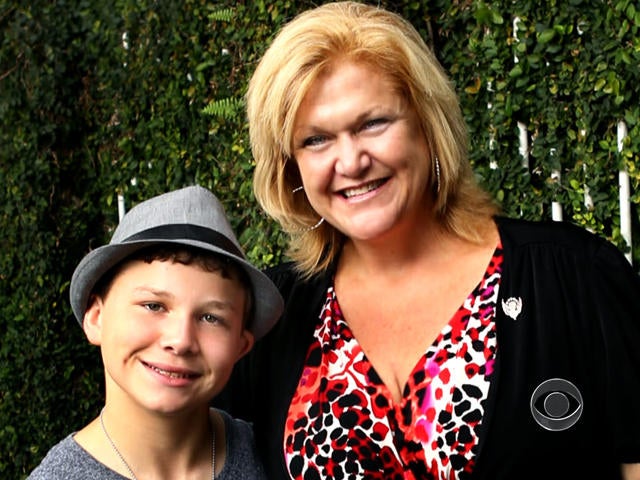 Social worker finds perfect home for troubled foster child
ST. PETERSBURG, Fla. -- From all four walls, success smiles down on 50-year-old social worker Connie Going: photos of some of the more than 1,000 Tampa Bay-area foster kids she has helped match with adoptive parents.

"Every child is adoptable," Going says. "There's a family for every child."

Going says it's her job to find out who that family is. But when she gets a kid like Taylor?

Her heavy sigh punctuates a 10-year struggle over this kid. For 10 years, Going tried to help Taylor get adopted -- to no avail.

"It was always somewhat my fault, but I didn't realize that, you know, when I was growing up," Taylor says.

Neglected by drug-addicted parents, Taylor and his two sisters entered the foster system in 2003. They were featured in a local news segment aimed at trying to find the siblings an adoptive family. And eventually they were adopted -- someone took all three -- but then gave Taylor back, saying he had anger issues.

Going did eventually find him another family, but not long after, they returned him, too, for the same reason.

"I was just so mad, because I thought that they weren't going to keep me," Taylor says. "I was just trying to test them."

"When you feel you're not loveable, and you're up against someone loving you, that's a pretty scary thing," Going says.

Throughout the whole process, she never gave up believing that there was someone out there for Taylor -- someone who could see his potential and help him realize it. But after that second family returned him, she stopped looking.

"All I could think about was how he was feeling and how he was blaming himself again," she says.

Going says she felt so bad for Taylor, she got a physical ache in her stomach. But it was a pain that came with an epiphany. She says she realized, right then and there, she couldn't be his case worker anymore.

The next day, she made arrangements to drop him as a client and take him on as a son. She had looked all over for somebody to parent him.

"And it was me," she says.

Their adoption was finalized this summer. Going, who's divorced with two biological children, welcomed her first boy with open arms. Of course, Taylor still had his anger issues; the mirror in the bedroom didn't break itself. But most of the madness stopped a few months ago -- after Taylor told Going he was running away from home.

"He'd go, 'I'm leaving. I hate this,'" Going says. "And I'd be like, 'I'm not sending you away, Taylor.' And he would look over at me, take his backpack off and head back in."

"And I'm like, 'Yeah, this is where I belong,'" Taylor says. "She knows my worst side and she still cares about me and still loves me."

Sounds like someone's adopted a new attitude.

To contact On the Road, or to send us a story idea, email us.

Thanks for reading CBS NEWS.
Create your free account or log in
for more features.