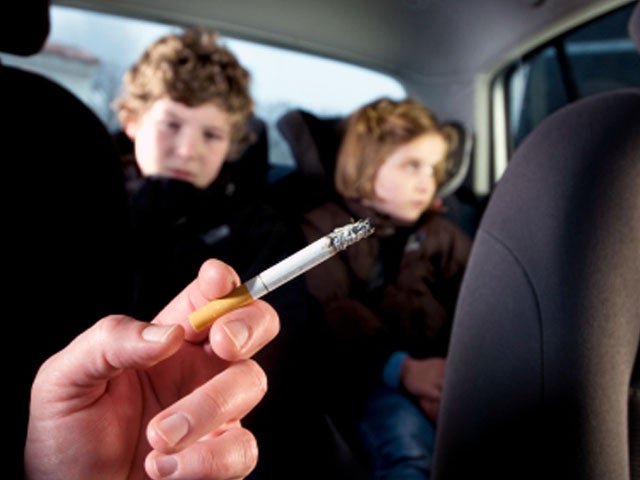 Smoking in cars a problem among parents, study finds
Smokers with children need to keep cigarettes out of their cars, the authors of a new study urge.
The study in the Nov. 12 issue of Pediatrics finds many adult smokers use tobacco in their cars with their kids present, potentially raising the child's risk for respiratory infections, cancer and even death.
"This research highlights the magnitude of the problem of parents exposing their children to tobacco smoke in cars," the authors write. "Strict 100 percent smoke-free car policies would help reduce tobacco smoke exposure of children and aid in protecting them from its harmful health effects."
The U.S. Surgeon General says there is no safe level of exposure to tobacco smoke. The Centers for Disease Control and Prevention adds that babies and children who breathe secondhand smoke are more likely to be sick with bronchitis, pneumonia and ear infections. They are also more likely to cough and wheeze than children who aren't exposed to tobacco smoke.
What's more, children with asthma who breathe secondhand smoke can have a serious attack requiring hospitalization that may even lead to death. Sudden infant death syndrome (SIDS) is also more common in babies who are exposed to secondhand smoke.
But the health risks appear to not be enough to deter some parents from exposing their kids. For the new research, 795 parents who were smokers were surveyed about whether or not they ever smoke in their cars and whether they expose their children to tobacco smoke while driving.
More than 70 percent of the parents said someone had smoked in their car during the past three months. Of those 562 parents who lacked a "smoke-free car policy," almost half of them said they smoked when children were present.
Interestingly, the majority of those parents (57 percent) said they had a strict smoke-free home policy but only 24 percent adhered to the strict policy in their cars. Those more likely to not smoke in cars smoked fewer than 10 cigarettes a day and had a child younger than 1-year-old.
According to the researchers, smoking as little as one cigarette in a confined space such as a car creates unsafe levels of respiratory particles.
Even with the windows down, the researchers say the secondhand-smoke risk remains high. One study they cited found air quality in a smoker's car with a window partially or completely down is comparable to that of a smoke-filled bar.
The study authors say a lack of patient education during trips to the pediatrician might be a factor in their findings. Only 12 percent of surveyed parents said their pediatrician had advised them to have a smoke-free car.
They are calling on pediatricians to talk tobacco use with parents and encourage them to have strict anti-smoking policies at home or on the road.
"It's not just parents quitting, it's not getting them outside the home," Dr. Tom Peterson, medical director of quality improvement at Helen DeVos Children's Hospital in Grand Rapids, Mich. who was not involved in the research, told CBS Detroit. "It's making sure they don't smoke in the cars."

Nearly 44 million Americans adults smoke, according to recent federal estimates.
The CDC has more on protecting children from secondhand smoke.
Thanks for reading CBS NEWS.
Create your free account or log in
for more features.