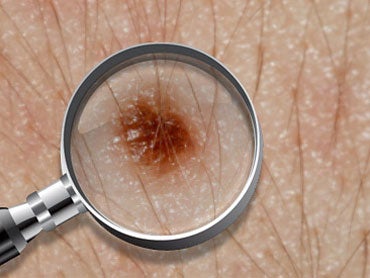 Skin Cancer or Mole? How to Tell Harmless Moles from Deadly Malignancies
(CBS) Are you taking steps to protect yourself against skin cancer?

If not, you may be playing with fire.
PICTURES: Skin Cancer... or Mole?
One in five Americans will develop skin cancer, making it the most common form of cancer in the U.S., according to the Skin Cancer Foundation.

Fortunately, it's also one of the most curable forms of cancer - if it's caught early.

But left untreated, even comparatively mild forms of skin cancer can prove disfiguring, and malignant melanoma, the most deadly form, can quickly prove fatal.
Experts recommend several precautions, including wearing sunscreen (SPF 30 or higher), wearing protective clothing (including a broad-brimmed hat and UV-blocking sunglasses), and avoiding direct sun exposure between 10 a.m. and 4 p.m.
But one of the most important ways to protect yourself is to check your skin. And that's something that's easy to do.
Easy, that is, if you know what you're looking for.
Dr. Ariel Ostad, a dermatologic surgeon and assistant clinical professor at NYU's School of Medicine, told CBS News what to look for when performing a skin exam - but said that it's important to discuss your skin cancer prevention strategies with a doctor
Click here to learnhow to tell harmless moles from potentially deadly cancers.
Thanks for reading CBS NEWS.
Create your free account or log in
for more features.