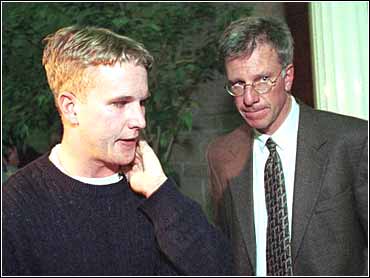 Skier Found Guilty In Man's Death
For the first time ever, a jury in the nation's No. 1 ski state has convicted a skier of homicide for a deadly collision on the slopes.
Nathan Hall, 21, of Chico, Calif., was found guilty late Thursday in the 1997 death of Alan Cobb, 33, of Denver. Prosecutors had urged the jury — made up entirely of skiers or snowboarders — to send a message that reckless skiing would not be tolerated.
Witnesses said Hall, a lift operator at the Vail Mountain resort, was skiing extremely fast in poor conditions when he collided with Cobb. Cobb died of head injuries.
"Today our ski slopes in Colorado and the world have been made safer," prosecutor John Clune said. "You can't recklessly ski and hurt somebody. I think the whole world should pay attention to this."
Hall had been charged with reckless manslaughter, which carries up to 16 years in prison. After 18 hours of deliberations, the jury found him guilty instead of the lesser charge of criminally negligent homicide.
The question the jury had to answer, CBS News Legal Consultant Andrew Cohen notes, is, what is reckless and what is misfortune? They had to determine if the person's recklessness can't be explained away as incompetence or negligence or just bad luck.
Hall could get six years in prison and a $500,000 fine. He is due for sentencing on Jan. 4.
"I think about Alan and his family every day," Hall said after the verdict. "I am just thankful it is over. I hope for a brighter future for everyone. I have a lot of strong feelings and comments I want to make, but not at this time."
Cobb's death and the subsequent deaths elsewhere of Michael Kennedy, Sonny Bono and several other skiers were followed by a crackdown on reckless skiing at several major resorts.
Two courts had thrown out the case against Hall, saying skiing recklessly wasn't enough to sustain a charge of reckless manslaughter or criminally negligent homicide. But the Colorado Supreme Court ordered the case to trial.
James Chalat, a Denver lawyer who specializes in ski cases, said he was unaware of any other trials in Colorado or other skiing states in which someone was convicted on such charges.
As CBS News Correspondent Bob McNamara reports, the case was closely watched amid growing complaints about speedy skiers and snowboarders, and it follows several other incidents related to skiing accidents.
In 1989, skier Howard Hidle hit and killed an 11-year-old girl at the Winter Park ski resort. Hidle pleaded no contest to criminally negligent homicide. He later committed suicide.
After Cobb's death, many Colorado resorts tightened their safety policies, threatening to strip season passes from hot-dogging skiers and snowboarders. The National Ski Areas Association launched a safety awareness campaign a year ago. Vail even created a squad to catch speedy skiers and snowboarders. The number of deaths nationally declined from 39 in 1998-99 to 30 last year.
olorado skiing is a $4 billion a year industry that 100,000 jobs rely on.
"The importance of the Hall case is that its the first case in which there is criminal sanctions being imposed on reckless skiing," said Chalat. "We're sick of people getting killed on the slopes by these nuts who ski too fast."
In the Hall case, District Attorney Mike Goodbee said everyone on the jury had seen hot-doggers flying past them on the slopes, scaring them.
The Vail Mountain ski resort settled a lawsuit filed by Cobb's family for about $300,000.
Hall did not testify, but the jury was played a recording made after the accident in which he said he was out of control and unable to stop. Hall described himself as an expert skier who had always been able to stay in control. "It was just this one time," he said.
The tape was made at an emergency room without his knowledge.
Skiers interviewed after the verdict said the intended message would be heard.
"This is going to put the brakes on even the best skiers. It has changed my whole outlook," said Edward Paul, who has skied for 20 years and works at a restaurant.
Bryan Wilson, a longtime skier who drives heavy equipment, said: "This is really a bummer. Any time you go on the hill you take a risk, and people get out of control all the time. It's not going to be any fun anymore."
©2000 CBS Worldwide Inc. All Rights Reserved. This material may not be published, broadcast, rewritten, or redistributed. The Associated Press contributed to this report
Thanks for reading CBS NEWS.
Create your free account or log in
for more features.