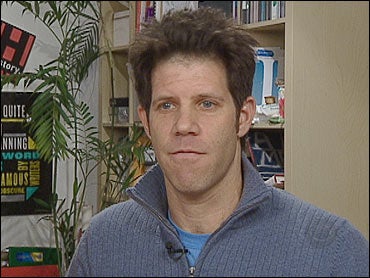 Six-Word Memoirs Can Say It All
Like many stories, this is one that starts with a writer -- sitting in a bar.
"There's a literary legend," says Smith magazine memoir editor Rachel Fershleiser, "that Ernest Hemingway was once challenged in a bar to write a story in only six words, a novel that would tell the whole story, and he wrote, 'For sale: baby shoes, never worn.' "
As co-anchor Maggie Rodriguez explained on The Early Show Tuesday, the challenge accepted by Hemingway lives on, thanks to Smith, an online magazine devoted to personal storytelling.
Fershleiser and Smith co-founder Larry Smith started a contest in which people wrote six-word stories of their own, as memoirs -- then put hundreds of them into a new book, "Not Quite What I Was Planning: Six-Word Memoirs by Writers Famous and Obscure."
"I really believe everyone has a story," says Larry Smith, "and a lot of people are afraid to start telling their story, (saying things such as), 'Oh, I don't write for The New Yorker' or 'I'm not going to have a best-selling memoir.' But, with six words, anyone can start, and when we asked people to tell their story in six words, they came bursting through our doors."
More than 15,000 entries poured in from around the country, some filled with heart, others with happiness. Publisher Harper Perennial calls them "fascinating, hilarious, shocking, and moving."
Entries included the likes of "Adopted baby. Got pregnant. Instant family" and "Love annihilated thirty year age difference."
Celebrities were among those getting into the act.
Stephen Colbert's contribution: 'Well, I thought it was funny."
Joan Rivers wanted to do more than talk with hers: "Liars: hysterectomy didn't improve sex life."
And celebrity chef Mario Batali's was steamy: "Brought it to a boil, often."
Then, there's Summer Grimes, whose "Not quite what I was planning" became the title of the book.
"Well," Grimes says, "this is kind of private, but it's kind of like 'fallen in love with my best friend.' Shhh!"
"You just have to ask," Fershleiser says. "There are a lot of people who never get asked, 'What are you thinking about? How has your life been?' "
Says Larry Smith, "There's really a lot going on in this little book. It's a fun little book, but it's intense, you know -- like all the emotions we feel year-to-year, day-to-day -- the whole human drama's in here -- in six words."
To read excerpts of "Not Quite What I Was Planning," click here.
The Early Show co-anchors all tried their hand at their own six-word memoirs.
Why not give it a go yourself? Enter your six words in the comments section below for fellow CBSNews.com readers to see!
You can also submit yours for consideration for the next six-word memoir book by clicking here.
Thanks for reading CBS NEWS.
Create your free account or log in
for more features.