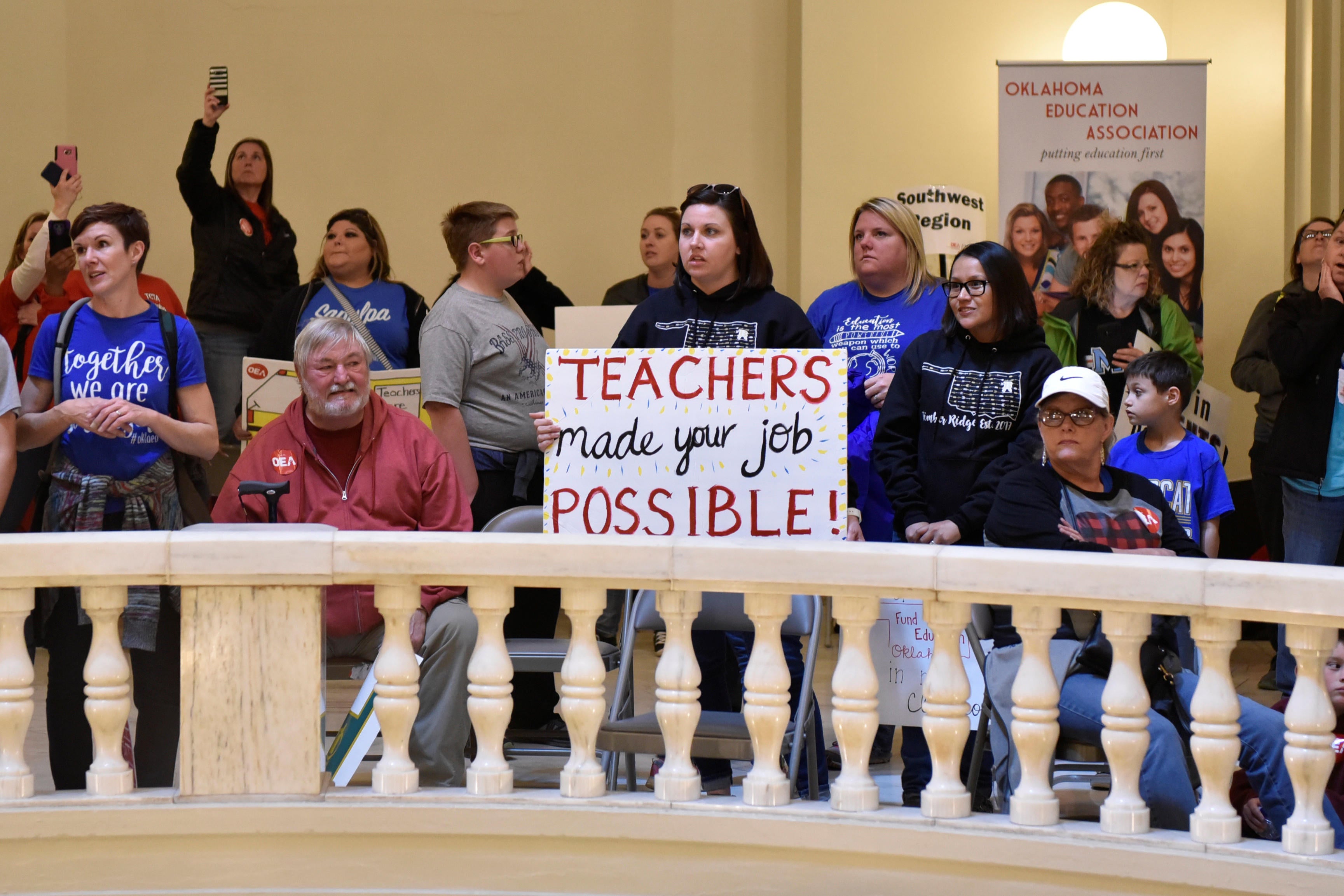 Six Oklahoma legislators opposed to teacher pay raise voted out of office in primary runoffs
Six Republican members of the Oklahoma House who opposed hiking taxes to improve teacher salaries lost their jobs in primary runoffs, adding momentum to a pro-education movement that previously ousted two other GOP legislators and fueled a statewide teacher walkout.
Pro-education groups were extraordinarily successful in targeting legislators who sought to block the tax hike. Of the 19 House Republicans who voted against the measure, eight failed to win their nominations — including the six who lost primary runoffs Tuesday. Seven others were either term-limited or decided not to run. Only four advanced to the November general election.
"The walkout woke us up, and we took our voice and our power back," said Alicia Priest, the head of the Oklahoma Education Association, the state's largest teachers union. "All across the state our members and their circle of influence have gotten involved in that political process and worked on campaigns and elections, and we saw the fruits of that effort last night."
This year's education movement that led to teacher protests in Arizona, Kentucky and West Virginia has already shaken up political races elsewhere. In Kentucky, where teachers thronged the Capitol over changes to their pension system, a high school math teacher ousted a top GOP leader in a primary, and dozens more teachers are on the ballot in November.
But the fallout in Oklahoma is unprecedented in recent political history. A dozen incumbents in the Legislature, all Republicans, have lost their jobs already, even before Democrats have a chance to challenge them.
Oklahoma Republicans typically don't pay a price for opposing tax increases, especially in a GOP primary, but this year's vote came after four consecutive years of budget shortfalls that have decimated funding for public schools. Nearly 20 percent of the state's school districts have gone to four-day school weeks, and teachers hadn't received a raise in a decade, leading to this spring's walkout in which tens of thousands of teachers rallied at the Capitol for more funding.
Sherrie Conley, an assistant principal in Oklahoma City who ousted a three-term incumbent, overcame a nearly 30-point deficit in the primary to pull off the upset on Tuesday. She said pro-education voters offered to help her campaign against state Rep. Bobby Cleveland, an anti-tax Republican who drew the ire of teachers when he chastised them for walking out of the classroom.
"The majority of my support, that's what it was. It was all based on education," said Conley, who will face a retired teacher in November. "Just about every door I knocked on, the issue would come up."
Because most of the nearly 100 teachers who filed for office this cycle are Democrats, Oklahoma Democratic Party Chair Anna Langthorn said the pro-education movement isn't finished shaking up the political scene.
Former attorney Drew Edmondson, the Democratic nominee for Oklahoma's open governor's seat, met frequently with teachers during the walkout and is touting his experience as a young high school teacher. And his opponent, Republican Kevin Stitt, has said he wouldn't have signed the tax-increase bill, drawing a sharp contrast between him and Edmondson over support for public schools.
"I think we have a huge opportunity going into the general election," Langthorn said. "Across the board, we have more teachers running and certainly have candidates who are more supportive of education."
Thanks for reading CBS NEWS.
Create your free account or log in
for more features.