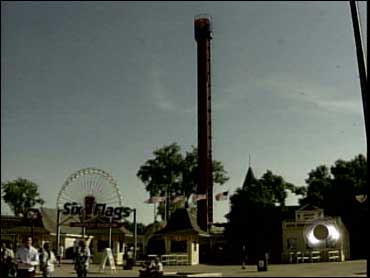 Six Flags Closes More Rides After Accident
Six Flags and another company shut down eight more thrill rides Friday around the country, including a ride at a North Carolina amusement park, after a teenage girl had her feet chopped off at the ankle on a Superman Tower of Power.
State inspectors, meanwhile, returned to Six Flags Kentucky Kingdom, where the accident happened, to examine the ride, which lifts passengers 177 feet straight up, then drops them nearly the same distance at speeds reaching 54 mph.
It was unclear at what point during the ride the 13-year-old was injured Thursday, said Wendy Goldberg, a Six Flags spokeswoman. The girl was taken to a hospital. She was not identified and details of her condition were not immediately available Friday.
Chris Williams, who witnessed the event, told CBS affiliate WLKY that riders saw the cable break as it got to the top on the right-hand side.
Treva Smith said it snapped again as the ride descended.
"The people on the ride just came and hit the ground," Smith said.
Next, Williams said he saw the teen maimed.
"As the ride came down, the wire swung left, struck the young lady on the back side of my children," Williams said.
Williams' daughter had traded seats with the 13-year-old, and was sitting on the other side of the ride.
Smith told WLKY she raced to the ride to find members of her group who had been on it.
"When I got up there, the lady, she was just sitting there and she didn't have no legs," Smith said. "She didn't have no legs at all. She was just calm, probably in shock from everything."
Six Flags has shut down similar rides at parks in St. Louis, Gurnee, Ill., and near Washington as a safety precaution, Goldberg said. Six Flags Over Texas, near Dallas, also has a Superman Tower of Power, but it is not the same ride, Goldberg said.
There were no reports of injuries on the ride before Thursday, she said.
"Millions of people have safely ridden this ride in our parks," Goldberg said.
The accident led Cedar Fair Entertainment Co. to shut down and inspect drop tower rides at Carowinds in Charlotte, N.C., and other four of its other amusement parks as a precaution, company spokeswoman Stacy Frole said.
The ride lifts passengers 177 feet straight up, then drops 154 feet, reaching a speed of 54 miles per hour according to the park's Web site. It opened in 1995 and was known then as "the Hellevator," reports the Louisville Courier-Journal.
Intamin, a Swiss company, made all the rides that were closed by both companies, said Craig Ross, a spokesman for Cedar Fair.
"We're going to keep these things down until we're certain it's safe," Ross said. "We'll wait and see."
An e-mail message sent to Intamin was not immediately returned Friday.
The four other Cedar Fair rides that will be shut down are at Kings Island near Cincinnati; Canada's Wonderland, in Toronto; Kings Dominion in Doswell, Va.; and Great America in Santa Clara, Calif.

Thanks for reading CBS NEWS.
Create your free account or log in
for more features.