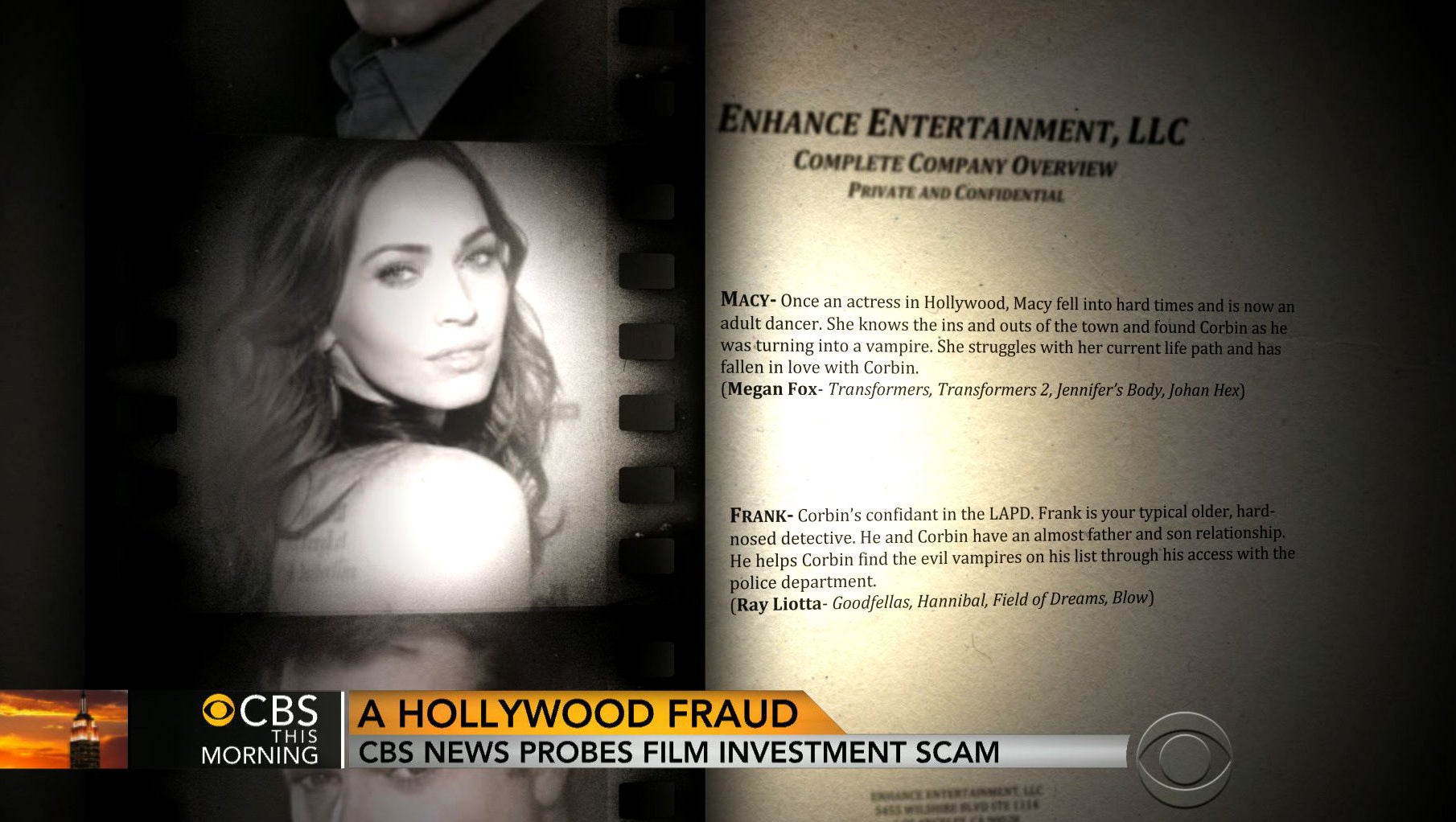 Six charged with stealing millions of dollars in Hollywood movie scam
The Justice Department indicted six people Thursday in connection with two movie scams that prosecutors say defrauded 150 investors of more than $5 million.
CBS News' Ben Tracy has been on the story for months with the our investigative team, even meeting undercover this past December with two different film producers pitching investments.
It's important to note that the two people depicted in the undercover video in the story are not among those indicted, but the CBS investigation gives a glimpse into how this fraud is conducted.
The 29-count indictment details one of two cases against other film producers in Los Angeles who the FBI says were cold-calling unsuspecting investors all over the country and stealing their money through a series of elaborate lies.

The movie was called "The Smuggler," and was supposedly going to star John Cusack and Joaquin Phoenix. Investors were told it was one of the "safest and surest investments" they could make.

The only problem? The FBI says it was all a lie.

"The people thought they were investing in the making of a movie. In reality they were funding the criminals' lifestyle," said Tim Delaney, special agent in charge at the FBI, who described the case as "straight up fraud."

One indictment says these filmmakers "devised, participated in, and executed a scheme to defraud victims"; that they "cold-called individuals across the United States"; and that they "would provide false and misleading information" to get investors' money.

Rand Chortkoff, 64, was one of those arrested by the FBI.

"He was the one in charge of finding the investors and getting their money to invest in the movie," Delaney said.

He was also executive producer at a company called Big Sky Motion Pictures, which was not part of Thursday's indictment.

Joel Craft told CBS News he sold thousands of investor names and phone numbers to Chortkoff and Big Sky. Of those, Craft said he believed "several hundred" actually invested in the production company. Craft also said he wasn't aware of any investor that got money back.

Craft was indicted in 2011 for selling telemarketing leads to production companies that defrauded investors.
He also says Chortkoff trained Cara Kidwell to handle investors. With hidden cameras, CBS News shot Kidwell trying to get CBS News producer Pat Milton to invest $100,000 in her own production, a horror film called "The Animal Among Us."

Kidwell, who has not been indicted, told us she helped produce Chortkoff's film "What Love Is," starring Cuba Gooding, Jr., released in 2007. She said investors had doubled their return.

However, investors told CBS News they never saw a dime of a return from the film.

Confronted by CBS News' Tracy in December and asked if she was aware that Big Sky Motion Pictures and Spring Break '83 Productions have several cease and desist orders against them for soliciting these kinds of investments, Kidwell said "No, I don't believe ... they do."

Asked by Tracy if it was "possible that she did not know what she was doing," Craft said "No, she knew exactly what she was doing." He also said her denial of knowing about any cease and desist orders against Big Sky was "a lie."

CBS News also learned that the man who told us his name is Gene Richards, and who wanted us to invest $30,000 in a film called "Corbin's List," is actually Gino Cabanas.
Since the CBS News investigation first aired Tuesday, filmmakers, actors and former employees have told CBS News that Cabanas has been involved in many movie and television investment schemes. Cabanas promised our producer a big return:

MILTON: Like, what if the movie flops? I mean, will I get anything back?

CABANAS: Yeah. Even if it flops you'll - you double your money.

MILTON: Wow. And you say I can meet Ray Liotta?

CABANAS: Yes.

MILTON: Would you arrange for that?

CABANAS: Yes ... Absolutely.

A representative for Ray Liotta told CBS News that Liotta is "most certainly not connected to this film nor has he ever heard anything of this project."

The FBI says these scammers are living the high life with other people's money.

"We've had subjects in these types of cases that have Rolls Royces, Bentleys, that lived in the Hollywood Hills, that dined at Chateau Marmont and they were living the lifestyle with the money they collected from these investment scams," Delaney said.

The FBI says the six people they have indicted face up to 20 years in prison if they are convicted. They told us they also have several more open cases on people running movie investment schemes.

Thanks for reading CBS NEWS.
Create your free account or log in
for more features.