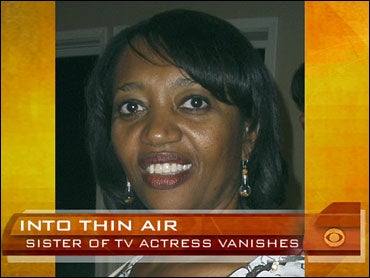 Sister Of "Grey's Anatomy" Actress Missing
Police are asking for help in finding the sister of "Grey's Anatomy" and "Friday Night Lights" actress Aasha Davis. Leslie Herring, 45, vanished six weeks ago from her Los Angeles condo after getting into an argument with her husband.
Davis, who is on a mission to find her sister, talked with Early Show co-anchor Julie Chen from the L.A. bureau.
"I think that she -- I think something terrible might have happened to her, just because I know that my sister would be in contact with us. She would want us to know where she was. She would know that we would worry about her so much," Davis said. "But my hope is that she's OK and that she just needs to know that we want her home soon and that we miss her and love her and that she's safe to come home."
The last time that Davis saw her sister was after the birth of her son.
"I just had a baby 11 weeks ago, and she came to see the baby once I left the hospital. And it was wonderful. She was very excited about him. She knew the holidays would be different, you know, Easter and Christmas. And she seemed in great spirits," Davis said.
Herring's husband of 11 years, Lyle, who police say is not a suspect, is not fully cooperating however.
"What do you think about Lyle, and do you think he should be a suspect?" Chen asked.
"I can't speak for Lyle, but I know if it were me, I would want to answer as many questions as possible," Davis said.
Davis has spoken to her brother-in-law, but hasn't received any concrete answers about the disappearance of her sister.
"It's very fragmented. It's mostly about what's going on with him. But he won't talk about Leslie at all," she said.
On Feb. 8, the couple had an argument, Davis told Chen, and "According to him, they fought, he went to sleep. And when he woke up, my sister was gone."
Lyle also never reported her missing and did not answer a single question about Leslie.
"We searched for him for almost two weeks after she disappeared. And we could not get any response from him," she said. "Once he returned, he was very difficult to contact. We could contact him through e-mail, and he would choose what he would answer, what questions, and most of the time they weren't about my sister. They were only about him."
If you have any information about the whereabouts of Leslie Herring, you are urged to call the Los Angeles Police Department at 1-877-LAPD-247 or 1-877-527-3247.

Thanks for reading CBS NEWS.
Create your free account or log in
for more features.