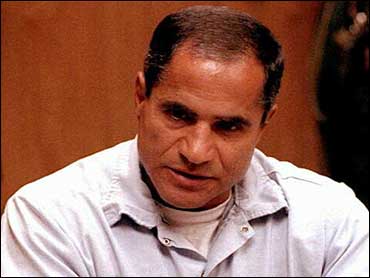 Sirhan Sirhan Kept Behind Bars
Robert F. Kennedy assassin Sirhan Sirhan was denied parole Thursday for the 12th time since the 1968 slaying.
Sirhan is serving a life sentence for killing Kennedy just moments after the Democratic senator declared victory in the California presidential primary.
"If he were to be released into the community, his risk appears to be significant," said parole board chairwoman Carol Daly. "Until progress is made, the prisoner continues to be unpredictable and a threat to others."
Sirhan claims he was hypnotized at the time and that a second gunman might have actually killed Kennedy at the Ambassador Hotel in Los Angeles.
On Wednesday, Sirhan's attorney, Lawrence Teeter, repeated his argument that Sirhan could not have fired the fatal shot.
"He was not in position and was out of range and could not have shot Robert Kennedy," Teeter said.
Sirhan was not present at his parole hearing at Corcoran State Prison.
In January, Teeter lost a Supreme Court appeal of Sirhan's conviction. The justices refused to consider claims that Sirhan's original defense lawyer secretly worked with the government to win his conviction.
Teeter said petitions are still pending in the California Supreme Court and in Los Angeles federal court seeking a new trial.
Sirhan shot Kennedy three times on June 5, 1968, as Kennedy made his way through a kitchen in Ambassador Hotel. Four other people were also struck by bullets.
Sirhan was arrested on the scene; Kennedy died early the next day.
Sirhan was convicted and originally sentenced to death, but that punishment was commuted to a life term by the California Supreme Court. However, questions about his motives and rumors of a conspiracy lingered, and in 1975, the FBI appointed a special investigator to probe the claims that more than one gunman was involved.
In that report, the investigator, Thomas Kranz, notes that "based on the original physical evidence, both in 1968 and the present condition of the bullets, it is impossible to positively match the specific bullet which killed Robert Kennedy … to the Sirhan revolver."
"There is always the possibility that Sirhan acted within a conspiracy, either overt or covert," the report concluded, "but the weight of evidence is overwhelmingly against this possibility."
Thanks for reading CBS NEWS.
Create your free account or log in
for more features.