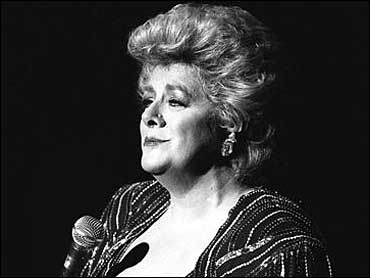 Singer Rosemary Clooney Dead At 74
Rosemary Clooney, the mellow-voiced singer who co-starred with Bing Crosby in "White Christmas" and staged a dramatic comeback after her career was nearly destroyed by drugs and alcohol, died Saturday. She was 74.
Clooney died shortly after 6 p.m. at her Beverly Hills home surrounded by her family, her publicist said. She had been hospitalized earlier this month after suffering a recurrence of lung cancer.
Clooney soared to fame with her 1951 record of "Come on-a My House," and became a star in television and films. Her career was sidelined by her marriage to Oscar-winning actor Jose Ferrer and the births of their five children. The pair divorced, and her attempts to return to performing were sabotaged by her erratic behavior.
Having undergone a series of emotional upsets, including the assassinations of Martin Luther King and Robert F. Kennedy, the blond singer had a breakdown during a 1968 engagement in Reno.
She walked off the stage in a rage without finishing her act. As she recalled in her 1977 autobiography, "This for Remembrance," she "fumed" in her dressing room. She wrote:
"Nobody could approach me. I was like a hand grenade with the pin pulled. Nobody could tell whether it was a dud or the real thing, because one minute I could be completely sweet and kind, the next, a raving monster."
She underwent harrowing confinement in a psychotic ward, then began rebuilding her life, gradually resuming her career and reaching new heights as a singer.
Born in Maysville, Kentucky in 1928, Clooney had a hardscrabble childhood clouded by the separation of her parents and lived much of the time with relatives.
Her first professional break came in 1945, when she borrowed money to make the trip to Cincinnati to audition for a radio job singing duets with her younger sister, Betty.
Two years later, the pair were touring with Tony Pastor's big band as "The Clooney Sisters," two of the early "girl singers" that were taking the spotlight as the Big Band era faded.
While Betty left show business to go back to Kentucky, Rosemary went to New York and never looked back.
"That's the way it started," Clooney said in a 1999 interview. "And the way it continued was just the fact that I wanted it very much."
Clooney played a few dates on radio and early television shows and recorded for Columbia. One day in 1951, Mitch Miller, the mentor of Columbia Records, offered her "Come on-a My House," by Armenian-American author William Saroyan.
"I think it was a musically snobbish time in my life," she wrote in her memoirs. "I really hated that song. I hated the whole idea, and my first impression was, what a cheap way to get people's attention."
When she refused to record the song, Miller threatened to fire her. She agreed, using an Italian accent instead of Armenian "because it was the only kind of accent I knew."
The song became a huge hit, and her first royalty check amounted to $130,000. She catapulted to stardom. In 1952 she signed a contract with Paramount Pictures.
Paramount starred her in four musicals: "The Stars Are Singing," "Here Come the Girls," with Bob Hope, a Western spoof "Red Garters," and "White Christmas," with Crosby and Danny Kaye.
Musicals were going out of style, and after a cameo in "Deep in My Heart" at MGM, her film career was over.
In 1953 she married Ferrer, the Puerto Rico-born actor and director whose brilliant stage career had been followed by success in films. He received an Academy Award as best actor in "Cyrano de Bergerac" in 1950.
It was the first marriage for Clooney, 25, the third for Ferrer, 41. Their first son, Miguel, was born in 1955. He was followed by Maria, 1956; Gabriel, 1957; Monsita, 1958; Rafael, 1960.
Actor George Clooney is Rosemary Clooney's nephew. He is the son of her brother, veteran TV newscaster Nick Clooney.
What followed was a dark period that culminated in a public and harrowing collapse for the singer that collaborator and lifelong friend Frank Sinatra had praised as "a symbol of good modern American music."
Clooney had also starred in two TV variety series, and the conflict of maintaining a career and a home for her husband and young children began to trouble her. Ferrer's womanizing caused her to divorce him in 1961. After a three-year reconciliation, they divorced for the final time in 1967.
More misfortune befell the singer. A two-year liaison with a young drummer ended when he walked out on her. She was devastated by King's assassination, and was present with two of her children in the ballroom of the Ambassador Hotel in Los Angeles when Kennedy was shot.
For years she had taken pills to assuage personal grief and maintain her double life as a star and a single mother. Overeating had caused her to gain 60 pounds. Her children and associates became alarmed at her irrational behavior.
Miguel recalled in a 1976 interview that his mother became "wild, uncontrollable. Once she told a cab driver she had a gun and would kill him. When I started to cry, she shoved her rosary in my hand and told me to pray for him."
"My brink of despair was rushing up to meet me like the end of a runway for a plane lumbering in vain to get off the ground," she wrote in her autobiography. She detailed her transfer to a double-locked room ("I was a violent case in a violent ward") in St. John's Hospital in Santa Monica, where she had given birth to her five children.
Clooney's book was adapted for a 1982 TV movie, "Rosie: The Rosemary Clooney Story," with Sondra Locke portraying her.
After four years of therapy, Clooney return to performing in 1972 at Copenhagen's Tivoli Gardens. For the first time in years, she found joy in entertaining an audience.
"Then at Christmas in 1975 Bing called me," she said in a 1985 Associated Press interview. "He said he was going to do a concert at the Los Angeles Music Center. Would I appear with him?"
She agreed, thinking it would be a one-time benefit. But the pair continued on to Chicago, New York and London. The Clooney career was reborn. She won a new record contract, and singing dates poured in.
Critics detected a new quality in Clooney's singing. Wrote Philip Elwood in the San Francisco Examiner:
"She really loves singing, singing just for the hell of it. She opens her mouth, gives a little smile, half-closes her eyes and vocally fondles the lyrics of `Everything Happens to Me' or `How Long Has This Been Going On?' or `I've Got a Crush on You.' And subsequently, listeners wonder why these songs never sounded so good before."
In 1995, she received an Emmy Award nomination for guest actress in a drama series for her role on "ER" with her nephew.
In 1996, Clooney married Hollywood dancer Dante DiPaolo. She is also survived by a brother, sister and 10 grandchildren. Funeral arrangements were incomplete.

Thanks for reading CBS NEWS.
Create your free account or log in
for more features.