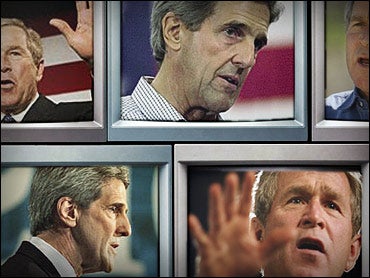 Sinclair Journo Fired For Stand
"Stolen Honor: Wounds That Never Heal," an anti-Kerry film which is the basis of a program the Sinclair Broadcast Group asked 60 of its 62 stations to run this week instead of regular programming, is kicking up some more controversy.
The program revisits the subject of Sen. John Kerry's actions in Vietnam and as an anti-war activist, and because it is running days before the election, the Democratic Party and 18 Democratic senators filed complaints with federal agencies objecting to the broadcast and demanding equal time.
They weren't the only ones to object, however. Sinclair Broadcast Group's Washington bureau chief, Jon Leiberman, says he's been fired for his public criticism of the company's plans to produce the program.
Leiberman - who had said he was uncomfortable with calling the program "news" instead of "commentary" - said he was fired by Joseph DeFeo, Sinclair's vice president for news, and "escorted out of the building."
"I was told I violated company policy by divulging information from a staff meeting to The (Baltimore) Sun in this morning's edition," Leiberman said late Monday.
"They're using news to drive their political agenda," says Leiberman. "I don't think it served the public trust."
In the interview published Monday, Leiberman, 29, called the planned Sinclair program "biased political propaganda, with clear intentions to sway the election."
"I really feel like I can sleep at night and I can be OK with my decision" to criticize Sinclair publicly," added Leiberman. "I know I stood up for the principles of objectivity. In journalism, all we have is credibility and objectivity."
Sinclair stations reach about a quarter of the U.S. population, including a number of the states considered key in the November 2nd election.
Mark Hyman, a vice president of corporate relations for Sinclair who is also a conservative commentator for the company, has defended the program as "a special news event that we've put together."
As a news event, it would be exempt from the FCC requirement to provide equal time for the opposing point of view.
Kerry campaign attorney Marc E. Elias says it's not a news event and as such, Sinclair is obligated to provide equal time to the Kerry campaign.
The Democrats have said they would file a complaint with the Federal Election Commission, charging that the program is an illegal in-kind contribution to President Bush's campaign.
A complaint was also filed with the Federal Communications Commission, which said it would not intervene to stop the airing of the program.
Hyman, who in a Sun interview calls Leiberman "a disgruntled employee," has said it's "absolutely absurd" to call the program a contribution to the Bush campaign.
"Would they suggest that our reporting a car bomb in Iraq is an in-kind contribution to the Kerry campaign? Would they suggest that our reporting on job losses is an in-kind contribution to the Kerry campaign?" said Hyman. "It's the news. It is what it is. We're reporting the news."
Hyman hit back at Leiberman late Monday.
"Everyone is entitled to their personal opinion, including Jon Leiberman," Hyman told The Sun. "We're disappointed that Jon's political views caused him to violate policy and speak to the press about company business."
"I have never, ever let politics frame the way I cover news," Leiberman told The Sun, denying being a 'disgruntled employee.'
Leiberman has won an Emmy and awards from the Associated Press and the Society of Professional Journalists and has covered stories including the war in Iraq, government corruption, the criminal justice system, the scandal at Los Alamos and wildfires in New Mexico.
That's according to a Sinclair Broadcast Group station web site.
The company web site also has a statement on the firestorm over "Stolen Honor."
"Characterizations regarding the content are premature and are based on ill-informed sources," says the company, telling its viewers to call Kerry campaign headquarters and urge him to appear as a guest on the live panel discussion that is to follow the film.
That's not expected to happen.
The Kerry campaign has instead asked Sinclair to provide air time for a pro-Kerry program, to run at a time hitting an audience as large as the one that typically watches the slot being given to the program featuring "Stolen Honor."
This isn't Sinclair's first political flap. In April, it was in the news for refusing to run a "Nightline" broadcast in which hundreds of names of GIs killed in Iraq were read aloud.
"In this election cycle, they have put their money where their right-wing mouths are," charged Democratic National Committee chairman Terry McAuliffe, in an interview last week. "Sinclair's owners aren't interested in news. They're interested in pro-Bush propaganda."
Thanks for reading CBS NEWS.
Create your free account or log in
for more features.