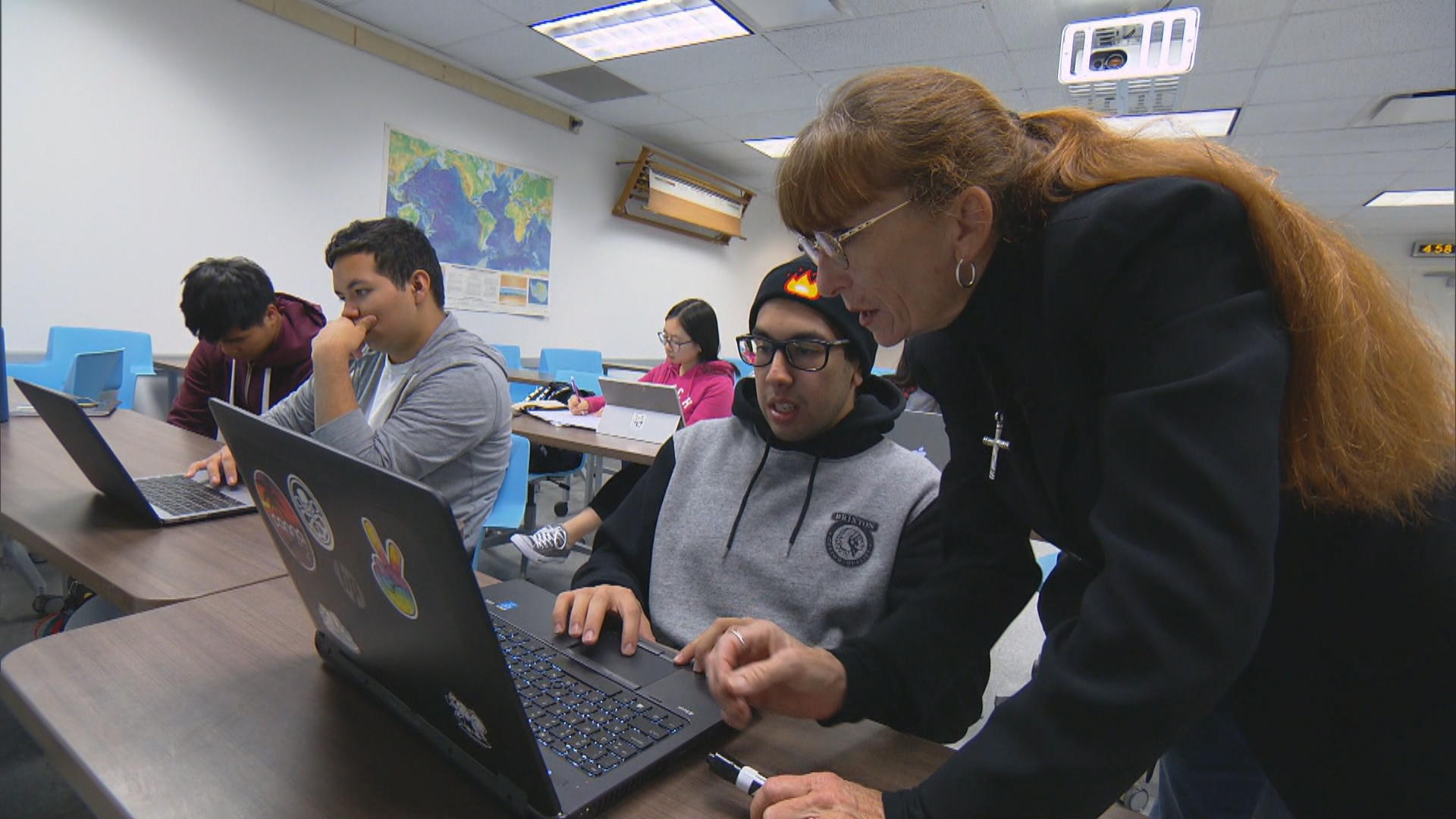 Silicon Valley's housing problem: Local teacher forced to sleep in her car
The U.S. homeless population is growing for the first time since the end of the Great Recession in 2010. A one-night government census earlier this year counted nearly 554,000 homeless people, up nearly one percent from 2016. In Silicon Valley, the high cost of housing is fueling a local homelessness crisis.
English professor Ellen James-Penney's campus at San Jose State University is located right in the middle of Silicon Valley, where tech giants like Google, Facebook and Apple have helped drive housing prices to stratospheric highs, reports CBS News' Mireya Villarreal.
"The housing takes up three-quarters of my monthly income. So, to stay here and to teach, which is what I love, I have to live in the car," James-Penney said.
Three nights a week, after her four classes end, James-Penney, along with her husband and two dogs, sets up camp in a church parking lot near campus.
Her 65-year-old husband Jim can't work because of a back injury. When it comes time to grade papers, her office is their 2004 Volvo.
"Being homeless and trying to teach here is almost impossible," she said.
At last count by government officials, there were more than 300 RVs on the streets of Mountain View. Some estimate there are more than a thousand all over Silicon Valley.
"We are seeing people who are being forced either to move out of the area completely, fall into homelessness, or find some way to make life work for them," said Tom Myers, who runs a social services agency in Mountain View, the home of Google and the town next to San Jose.
"Ten years ago, we were serving somewhere around three to 4,000 people. Today, we're serving close to 10,000 people per year," Myers said. "Most of that growth has been in the last few years."
Housing experts say it's a problem of supply and demand. California officials estimate the state needs to build about 180,000 new housing units each year to keep up with population growth, but on average, developers are building less than 80,000 per year. The result? A current gap of 1.5 million units between families who need housing and rentals they can afford.
"I think the incentive is there to build. I think that the policies the state of California has enacted makes it incredibly difficult to get that housing built," said Ray Pearl, who is with the California Housing Consortium.
James-Penney has tried unsuccessfully to get teaching jobs elsewhere in the country, but even if she gets one, picking up and moving won't be easy.
"This is what happens if I want to stay and do what I do," she said. "I'm fourth generation Californian and I'm being shoved out?"
Thanks for reading CBS NEWS.
Create your free account or log in
for more features.