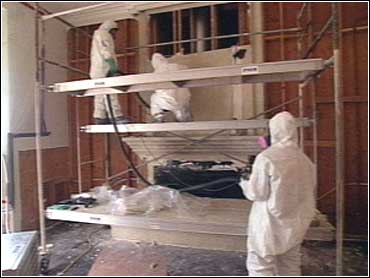 Silent Killers: Toxic Mold
Since the movie bearing her name appeared, everyone knows who Erin Brockovich is: the working mother who traced illnesses in a small California town to groundwater contaminated by Pacific Gas and Electric.
After the case was settled for hundreds of millions of dollars, Brockovich got a big promotion, and now divides her time between her job and motivational speaking.
She lives in a million-dollar home near Los Angeles, with her third husband, Eric Ellis, and the youngest of her 3 children - 11-year-old Beth.
Brockovich says it is the house she always wanted. The bonus she got from winning the lawsuit made her dream possible. But then it turned into a nightmare, 48 Hours Correspondent Susan Spencer reports.
For months, touring her home required a hazmat suit. The house was filled with slimy black mold called Stachybotrys
Few experts dispute that it can cause allergic reactions. According to industrial hygienist Joe Spurgeon, it can cause a runny nose, runny eyes, headaches, sinus congestion, cough, fatigue, and neurological problems.
Brockovich knows the symptoms well: she suffered with them for more than a year.
"I could not function," she says. "It was like this hanger-onner kinda flu. Achey, night sweats, headache. And I had been on antibiotics month after month." She says her whole family suffered from it.
She finally identified the cause whne a contractor she hired to fix leaks put her in touch with attorney Alex Robertson, who specializes in toxic mold cases. He says business is booming.
"Mold needs a couple of things to grow," he says. "It needs water, it needs cellulose. Everything we build our homes out of almost is celluslose-based." Brockovich is suing the builder of her house, subcontractors and the former owner, claiming faulty construction caused water leaks that led to the mold.
She says she sees the irony of her position: "I do a major toxic case, I get a bonus for that toxic case, and I bought a toxic home," she says with a laugh.
The mold is so toxic that parts of the house were sealed off. But she vowed the mold would not force her out. Instead, crews eliminated the mold, one room at a time. The price was roughly $600,000.
"I'm gonna fight my way through it to the very end," she says.
Steve and Karen Porath of Forresthill, Calif., took even more drastic action with their house. To get rid of their mold problem, they had their house torched, giving it to local firemen for a training exercise. The Poraths had no money for expensive repairs, and, of course, no prospective buyers.
The same mold bedeveling the Poraths and Brockovich forced the Ballards to evacuate their 22-room, 11,000-square foot mansion in Austin, Texas.
Melinda Ballard blames the mold for son Reese's asthma and learning disabilities, and for her husband Ron's memory loss. Eventually Ron quit his job as an investment banker. He sought out mold specialist Dr. Eckhardt Johanning, who gave him a devastating diagnosis: brain damage.
Ron's condition is a major part of the Ballards' landmark lawsuit against their insurance company – Farmers. They blame the company for the mold that has wrecked their home, saying, in effect, that the company refused to ante up enough money fast enough to fix water leaks.
They also hold the company responsible for the family's physical and neurological problems.
"For the rest of our lives, we will have to worry about Ronny and Reese and their medical conditions," says Melinda.
But the Centers for Disease Control and the Environmental Protection Agency say that some of the most extreme health risks of mold, such as brain damage and memory loss, have not yet been proven.
During the trial, the judge cited that lack of scientific evidence to deliver a major blow to the Ballard case: He refused to admit any testimony that mold causes brain damage - in effect wiping out the family's medical claims. Brockovich says science just hasn't caught up with reality
The jury agreed, and ruled in favor of the Ballards in every category. The total award: $32 million. Farmers' Insurance is appealing, but for now Ron and Melinda are savoring their win. Melinda also testifed in support of a new California law, which treats mold as a public health hazard.
© MMI, CBS Worldwide Inc. All Rights Reserved
Thanks for reading CBS NEWS.
Create your free account or log in
for more features.