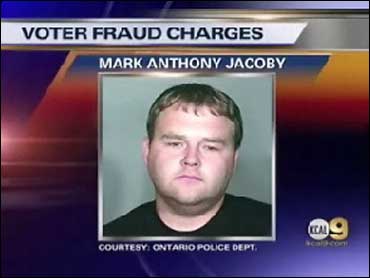 Signature-Gatherer Arrested In Voter Fraud
The owner of a signature-gathering firm has been arrested on suspicion of voter registration fraud, authorities said Sunday.
Mark Anthony Jacoby, who owns the firm Young Political Majors, is accused of registering himself to vote twice - in 2006 and in 2007 - using the address of a childhood home in Los Angeles where he no longer lived.
The Secretary of State's Office said Jacoby used the address to meet a state requirement that signature-gatherers sign a declaration stating that they are either registered to vote in California or are eligible to do so.
State investigators and local police arrested Jacoby shortly before midnight Saturday near an Ontario hotel on a warrant issued by the Los Angeles District Attorney's Office earlier this month.
Jacoby faces four felony charges: two counts of voter registration fraud and two counts of perjury. Voter registration fraud carries a penalty of up to three years in prison.
Jacoby could not be reached for comment.
CBS Station KCBS reports that the California Republican Party issued a statement calling the arrest "partisan activity undertaken by California Secretary of State Debra Bowen."
The statement said Bowen was trying to deflect attention from ACORN, a liberal voter registration group that has come under fire from Republicans for allegedly turning in ineligible voter registration forms.
"While we condemn voter fraud in all forms, it is evident that Debra Bowen is using her office to play politics with the public's perception of political parties. This is inappropriate at least, and an abuse of her office and a willing suspension of her duties at worst," the statement said.
But Democratic Party officials said changing voters' party affiliations hurts the party's get-out-the-vote efforts.
It could also deny voters the right to cast a ballot in their "real" party's primary, as California has a closed primary system.
This is not the first time that Jacoby has been embroiled in voter controversy.
He faced similar complaints in Massachusetts in 2005, where voters claimed a signature-gathering firm that Jacoby was working for as a subcontractor, Arno Political Consultants, duped them into signing an anti-gay marriage petition when they were told they were signing a ballot question about the sale of wine in grocery stores.
One signature-gatherer told a state hearing that Jacoby had personally trained her in the bait-and-switch tactic.
Earlier this year, dozens of voters accused Jacoby's YPM, which had been hired by the California Republican Party, of tricking them into registering as Republicans. The voters said they thought they were signing a petition calling for stiffer penalties for child molesters.
State Republican Party spokesman Hector Barajas denied that YPM "slammed" voters, telling KCBS, "It does the state party no good to register people to a party they don't want to be in."
News of the recent petition solicitation fraud, as related in the Los Angeles Times, isn't the first such case in California.
An investigation in 2006 led to felony charges against twelve people in Orange County when voters were fraudulently registered as Republicans or had their party affiliations switched after being asked to signed petitions on unrelated matters.
The chairman of the Orange County Republican Party said at the time that the party did not know about the illegal activities.
At least four of the twelve have been convicted, receiving three years' probation and for some short jail terms.
Thanks for reading CBS NEWS.
Create your free account or log in
for more features.