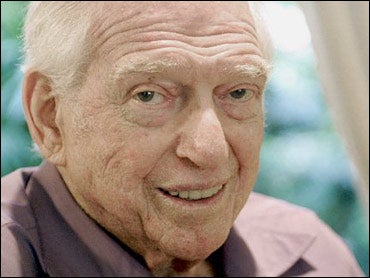 Sidney Sheldon Shares Secrets
When you think of best-selling author Sidney Sheldon, you probably think of intrigue and romance across the four corners of the globe. But the famed writer has secrets of his own, and he shared a few of them with The Early Show co-anchor Julie Chen when she paid a visit to his Sunset Boulevard home.
He won a Tony for co-writing "Redhead," the best musical of 1959. An Oscar came a decade earlier, for writing "The Bachelor and the Bobby-Soxer."
Despite those achievements, Sheldon is best known for creating the hit situation comedy "I Dream of Jeannie," and for writing a string of sexy best-selling novels, including "The Other Side of Midnight," "Bloodline," and his latest thriller, "Are You Afraid of the Dark?"
"I started to write it because I was interested in writing about a think-tank," he says, "and some of their employees were being murdered all over the world. And this story is about two widows, who come to New York to the think-tank. And they find out their lives are in danger, so they're on the run against this enormous organization who wants to kill them."
Sheldon's novels have always run on the "steamy" side. But in his new book the steam gets its heat from real-world events.
He says his new book has a warning in mind about "something that's going on in this world, including our government, that people are not aware of, and should be aware of."
Sheldon is currently hard at work on his next book. He writes the way he always has, dictating the first draft, and then re-writing the transcripts. He gets advice from his wife Alexandra along the way.
"I identify completely with my characters," he says. "Alexandra came up to me, and she said, 'Why are you crying?' And I didn't know I was crying. But I was writing a scene where a little boy dies. And I felt that so deeply, I was crying."
Sadness is nothing new to Sheldon. A child of the Depression, he struggled to succeed. But even on a day that should have been one of the happiest of his life, darkness prevailed.
"I won an Oscar, for 'The Bachelor And The Bobby-Soxer.' And that was one of the worst nights of my life. I should have been exhilarated and I was depressed. And I thought, you know, this is, there's something wrong. I'm not happy. And I went to a psychiatrist," says Sheldon. "And he said, 'You have bipolar disorder. You're a manic-depressive.' And that's when I first learned about it. But meanwhile I'd done a lot of bad things. I'd walked out on a lot of successes that I could have had. And I finally knew what was wrong."
"And now I'm perfectly normal," he says, as he jokingly gestures like Dracula.
Sheldon's next book is an autobiography, titled "The Other Side of Me," a play on "The Other Side Of Midnight."
"It goes back to where I was born, and, it starts with me wanting to commit suicide. I was very unhappy," says Sheldon.
He says wanted to kill himself when he was 17. "I was very depressed because I felt there was nothing more in life for me than I was doing, working at the drugstore as a delivery boy, and hanging hats and coats. Many years later, I found out that I had bipolar disorder. And that's something that very often leads to suicide. Many people who have it kill themselves."
"I don't know what would have happened in my career if I didn't have that problem. I know, when I was about 17, I went to New York to be a songwriter, because a song of mine had been accepted by the orchestra leader in Chicago," he says.
"So, I went to New York. Had no success until a man came to me, and read my lyrics, and he said, let's work together. And he was very famous, and he had, he had two hits on, you know, and this was the chance I'd been looking for. And he said, come to my office, we'll start working, 10 o'clock tomorrow morning. At 10 the next morning, I was on a bus back to Chicago. I just felt I wasn't good enough to work with him." He says he doesn't know what would have happened if he'd made his meeting.
Sheldon notes that he had many periods of happiness. "Well, different things made me happy," he says. "When I was about 30, I had three shows running on Broadway. And that made me happy."
Friends often visit Sheldon's home for private screenings of the latest movies.
He is in his late '80s, and says he'll continue writing "until God says, 'Come on, let's go.'"
"I love what I do. I work seven days a week, and I look forward to Sundays, and Saturdays," he says. "We used to travel more. And now I'm going to start traveling again. I have to do this while I'm young."
Sheldon also plans to sell his beautiful Sunset Boulevard home. He and his wife are planning to move closer to the cleaner air along the Pacific.

Thanks for reading CBS NEWS.
Create your free account or log in
for more features.