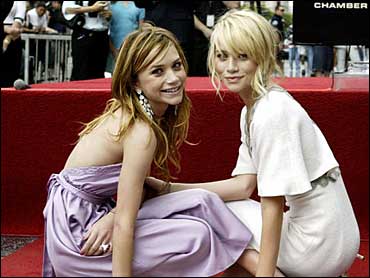 Sick Olsen 'Hanging In There'
The "health-related issue" Mary-Kate Olsen is seeking treatment for is something she has struggled with for some time, her twin sister, Ashley, told People magazine. Both People and Us Weekly have reported that Mary-Kate has an eating disorder.
Mary-Kate's publicist, Michael Pagnotta, has said only that she entered a treatment facility recently "to seek professional help for a health-related issue."
"She's hanging in there," Ashley Olsen said of her sister, adding family members were very appreciative of the public support they have received since Mary-Kate's problem was disclosed.
"The support's been really amazing," Ashley Olsen said.
She added that her sister had been struggling with the problem for "quite awhile" before the family stepped in and got help for her.
"She is taking the time she needs for herself right now," Ashley Olsen told People. "Right now is especially a good time right before school so she can get healthy."
The twins, whose most recent movie is "New York Minute," turned 18 earlier this month and plans to attend New York University in the fall.
Olsen, who recently canceled a trip to Australia to promote "New York Minute" to be with her sister, declined to describe their recent meetings.
"It's private," she said. "I'm here for her whenever she needs me, and, you know, that's how it works."
Seventeen magazine editor-in-chief Atoosa Rubenstein said during a recent photo shoot, staffers noticed that Mary-Kate was much smaller than Ashley, but there were no indications then that Mary-Kate might have an eating disorder.
"I think that the message that I hope people take from this is to get out of the culture of saying, 'oh, you look so thin,' 'oh, you look so pretty,' to our daughters, to our friends and start recognizing each other for the smart things that we do, for our integrity, for our kindness, for other things other than the superficial," Rubenstein said Thursday on CBS News' The Early Show, "because if a girl like Mary-Kate Olsen, who is worshipped by so many for being so beautiful, struggles with this, imagine an ordinary girl."
Rubenstein told Early Show co-anchor Harry Smith that Mary-Kate's problem may have started with a family vacation about a year ago, when paparazzi photographed the twins in bikinis.
"I thought that was really invasive," Rubenstein said. "I could see how that could make a young girl like her feel funny."
"While it is unfortunate that plans have been canceled, Mary-Kate and Ashley appreciate everyone's support and understanding at this time. They look forward to coming to Australia and New Zealand in the very near future," Thorne's statement said.
Mary-Kate and Ashley turned 18 on June 13, assuming control of Dualstar Entertainment. They are estimated to be worth $150 million each.
They've been acting together since they were 9 months old, most notably on the sitcom "Full House" and in a series of direct-to-video movies. They have also attached their names to a line of merchandise including clothing, beauty products and home decorating materials.
"New York Minute" did poorly at the U.S. box office after its May release.

Thanks for reading CBS NEWS.
Create your free account or log in
for more features.