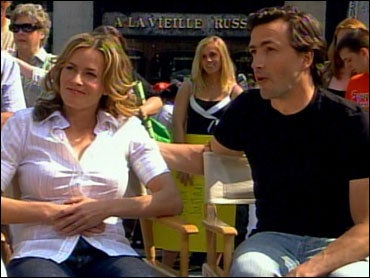 Shues Tell Their Story In "Gracie"
The Shue family is well-known for their acting. Elisabeth Shue received and Oscar nomination for "Leaving Las Vegas" and her brother Andrew is best known for playing Billy Campbell in "Melrose Place." But before the bright lights beckoned, they were a soccer family in New Jersey.
The movie "Gracie," is about their lives. Gracie, who is loosely based on Elisabeth, is trying to make the boys' soccer team after her older brother — the team's star — died.
Andrew said his sister was one of the first girls playing competitive soccer against boys in the 1970s. There were no girls' teams at the time, he said. Having a girl on the boys' team was unheard of in their suburban Jersey town.
"She was a groundbreaker," Andrew told The Early Show co-anchor Hannah Storm. "And the story honors our older brother, who was our hero and protector, because our parents got divorced. He was an incredible example of perseverance. We wanted to show a story of a girl who wants to show everybody, including her dad, that you can do anything. It's sort of 'Rocky' for girls. Soccer is our family sport. It's not really a sports movie. It's a love story between a father and daughter."
Dermot Mulroney plays the soccer-crazed father while Elisabeth plays the mother. Neither parent wants Gracie, played by Carly Schroeder, to join the soccer team, but the mother tells her daughter that she must fight for what she believes in.
"It's a big struggle," Elisabeth said. "Her family doesn't believe in her and she has to fight to be seen and not give up. It's a really, really tough journey. She comes through."
Part of the movie, which is directed by Elisabeth's husband, Davis Guggenheim, is fictional, but she said the "emotional truth" of her family was maintained. She said that growing up in a family of all boys, she always had to fight to be seen.
"The person who kept this thing honest and true and made it so real was my sister's husband, Davis," Andrew said. "He was able to see our family for what it was and told the story with authenticity. We shot it in New Jersey and Bruce Springsteen gave us a song. We did it as a family."
Elisabeth said her husband made the movie from an emotional point of view and the family trusted him to "keep it sacred." The hardest part, she said, was listening to him.
"When you're married, you're truthful and you tell it like it is," she said. "When you're the actor to the husband, it makes it hard."
Thanks for reading CBS NEWS.
Create your free account or log in
for more features.