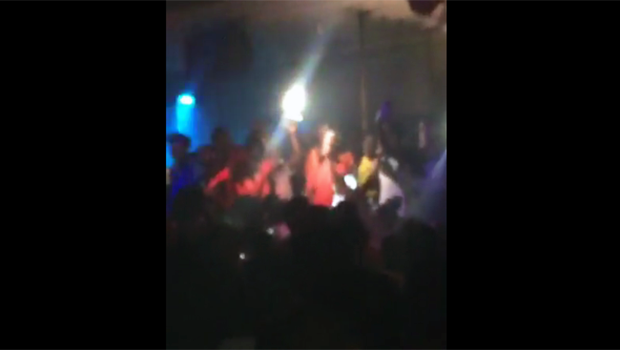 Shooting at Little Rock, Arkansas, nightclub leaves 28 injured
LITTLE ROCK, Ark. -- Police said 28 people were hurt in a shooting early Saturday after a dispute at a downtown Little Rock nightclub. The city's police chief said officers suspect multiple people fired weapons but that the incident was not terror-related.
Little Rock Police said on Twitter that 25 people suffered gunshot wounds and three had unrelated injuries. Police said all were expected to survive.
Clubgoers between the ages of 16 and 35 suffered gunshot wounds, and three others had unrelated injuries. Two people were in critical condition Saturday afternoon, police said.
The shooting occurred around 2:30 a.m. Saturday at the Power Ultra Lounge, a club in a two-story building downtown about 1 mile east of the state Capitol, during a concert by Tennessee rapper Finese 2Tymes, CBS affiliate KTHV-TV reports.
Police cordoned off the area as technicians collected evidence from the scene. Glass from the club's second story windows littered the ground, along with empty drink cups.
"We do NOT believe this incident was an active shooter or terror related incident. It appears to have been a dispute at a concert," the city police posted on its Twitter account overnight.
Police said that one person who had been in critical condition was upgraded to stable.
"One is too many. Seventeen is very alarming and certainly disturbing," Little Rock Police Chief Kenton Buckner told reporters. He said there was "some sort of dispute broke out between people inside" the club and that there are "probably multiple shooting suspects."
Police have not identified suspects, and no arrests have been made.
A Facebook video posted from inside the club included audio of at least 24 rounds fired in about 11 seconds. Darryl Rankin, who posted the video, said a friend of his who attended the Finese 2Tymes concert with him had a bullet "stuck in his spine."
Courtney Swanigan, 23, told The Associated Press that when the gunfire rang out, "I just closed my eyes, got down on the ground and put my hands on my head."
Rapper Finese 2Tymes issued a statement in all capital letters on Facebook expressing his thoughts for those injured. "THE VIOLENCE IS NOT FOR THE CLUB PEOPLE. WE ALL COME WITH 1 MOTIVE AT THE END OF THE DAY, AND THATS TO HAVE FUN. NOT TO BE HURT."
The shooting follows a week in which there have been about a dozen drive-by shootings in the capital city, though there's no indication the events are linked.
Gov. Asa Hutchinson said in a statement that his thoughts are with the victims and their families.
"Little Rock's crime problem appears to be intensifying. Every few days it seems a high profile shooting dominates the news, culminating with this morning's event," he said Saturday. "I have spoken this morning with Mayor Stodola and I have offered both my heart felt concern over this senseless violent tragedy and state assets as needed to address the continued threat of violence in our community."
Early Saturday, Rada Bunch waited outside the club after she had heard from a friend that her son had been at the club and may have been shot. She had received little information about the incident.
"I'm sick of all the killing and I'm tired of all the shooting, the kids getting hurt," Bunch said.
Mayor Mark Stodola said the city would shut down the club under a "criminal abatement" program. State regulators suspended the club's liquor license earlier Saturday and Stodola said the property's manager was delivering an eviction notice.
"We know we've got to use a hammer, we've got to use a big hammer on the people who would do violence with guns and hurt people," the mayor said at an afternoon news conference.
He said the city must do more to "keep guns out of the hands of the wrong people" and suggested that people refuse to patronize clubs that seem to promote violence. Material advertising the concert showed a man pointing a gun at a camera.
"A promotional video with a gun on the front cover inviting people to a concert ... should also be totally unacceptable in our community," Stodola said.
Earlier, Stodola said on Facebook that his prayers were with the victims of the shooting. "My heart is broken this morning -- my prayers are with the victims of this tragedy," he wrote.
Arkansas Alcoholic Beverage Control officials suspended the club's alcohol license and set a hearing for July 10 on three potential charges: disorderly conduct, allowing possession of weapons on the premises and "failure to be a good neighbor."
The club's license has been suspended 11 times for failing to pay taxes, and it has been cited seven times for 14 various violations including unknowingly furnishing alcohol to minors and allowing alcohol to leave the premises since 2012, ABC Director of Enforcement Boyce Hamlet said.
In May, one person was killed and six people were hurt in a mass shooting at a downtown concert in Jonesboro, Arkansas, about 115 miles northeast of Little Rock. In that case, two men were charged with first-degree murder and six counts of first-degree battery.
Arkansas lawmakers earlier this year approved a measure expanding where concealed handguns can be carried, including bars if allowed by owners, for licensees who undergo additional training. The law takes effect in September, but the training likely won't be available until early next year.
Thanks for reading CBS NEWS.
Create your free account or log in
for more features.