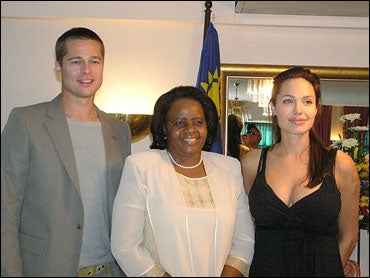 Shiloh's Birth 'Truly Peaceful'
In Angelina Jolie and Brad Pitt's first broadcast interview since their daughter was born, Pitt says the event was "truly peaceful."
In the interview, conducted by the Namibian Broadcasting Corp. and obtained exclusively Thursday by AP Television News, Pitt and Jolie sit side by side, reflecting on their experience in the African country where Shiloh Nouvel was born May 27.
"I'd just like to thank the people of Namibia," Pitt says. "They've been so gracious and made our stay here very special, and because of that we've had an incredible time with our family exploring the country, and (had) a truly peaceful birth of our daughter."
A relaxed and smiling Jolie, wearing a black dress, says their visit has been "an amazing adventure."
"We just love this part of the world," she says, adding that their 4-year-old son, Maddox, made many friends during their stay.
Pitt, 42, and Jolie, 31, made their first public appearance since their daughter's birth at a news conference for local journalists in Swakopmund on Wednesday, thanking Namibia for the government-assisted privacy they enjoyed.
The broadcast interview wasn't the only new snapshot of the celebrity family. Pictures of newborn Shiloh — whose name is of Hebrew origin and denotes the Messiah — were published in People magazine, on newsstands Friday. In six photos taken at a private shoot, Pitt and Jolie are shown snuggling and holding Shiloh, who appears to have inherited one of her mother's characteristic traits.
"She's got Dad's baby blues and just a soft crop of fair hair, but it's those lips — check out the super-size pout — that most give her away," the magazine writes. "Yes, Shiloh Nouvel Jolie-Pitt is definitely her mother's daughter."
Pitt and Jolie sold the rights to the photos to Getty Images, saying all proceeds would be donated to a charity, not yet named. People paid a reported $4 million for the North America rights and London-based Hello! magazine obtained the British rights.
A spokesman for People would not comment on how much the magazine paid.
Besides Shiloh and Maddox, the couple have a 16-month-old daughter, Zahara. Maddox was adopted from Cambodia and Zahara was adopted from Ethiopia.
Thanks for reading CBS NEWS.
Create your free account or log in
for more features.