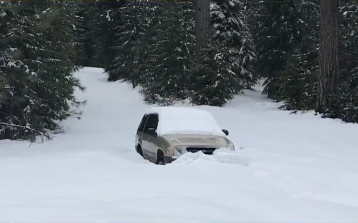 "Extremely traumatic": Missing woman found after 10 days stranded in snow
MARYSVILLE, Calif. -- It's a miraculous end to a missing woman's story: a Marysville woman is OK after says she was stranded in the snow for 10 days, CBS Sacramento reports. Sheryl Donovan was on her way to work when she ran out of gas after making a wrong turn in snow-covered mountains.
A photo of the 54-year-old grandmother's SUV shows the spot where she stayed for ten days, with no cellphone service to call for help.
Now, her daughter is thrilled to have her home after more than a week.
"It's been overwhelming, to say the least," Ashley Ehlert said.
Ehlert is now caring for her mother following a doctor's exam, and is still trying to learn what went wrong.
"We've spoken with my mom, and her story she's given us a little bit at a time," Ehlert said. "I'm sure everyone can understand that this has been extremely traumatic."
Ehlert said her mom used extra clothes in her SUV to keep from freezing, and only had a single bottle of water during the 10 days she was missing.
"She did sparsely drink that, so she took her time on exhausting the one bottle of water that she did have," Ehlert said. "She did eat some snow."
Donovan's SUV was found near Camptonville, California -- a desolate spot in Sierra County and a long way from her home destination of Marysville.
"It would appear she took a right turn when she probably should have taken a left-hand turn," Nevada County Sheriff Lt. Robert Bringolf said.
Bringolf said search and rescue teams had been focusing on other routes in their search and were expecting the worst.
"And we're really, really, really happy that it turned out a different way," Bringolf said.
Donovan's daughter said her mom was finally located when she got out of her SUV on the tenth day and walked a mile to find a road, where a good Samaritan stopped to help her.
"I've joked with her that ... I will find some way to put a tracking device on her," Ehlert said.
Nevada County sheriff's deputies said Donovan's SUV is still stuck in the snow. They hope to retrieve it Tuesday.
Thanks for reading CBS NEWS.
Create your free account or log in
for more features.