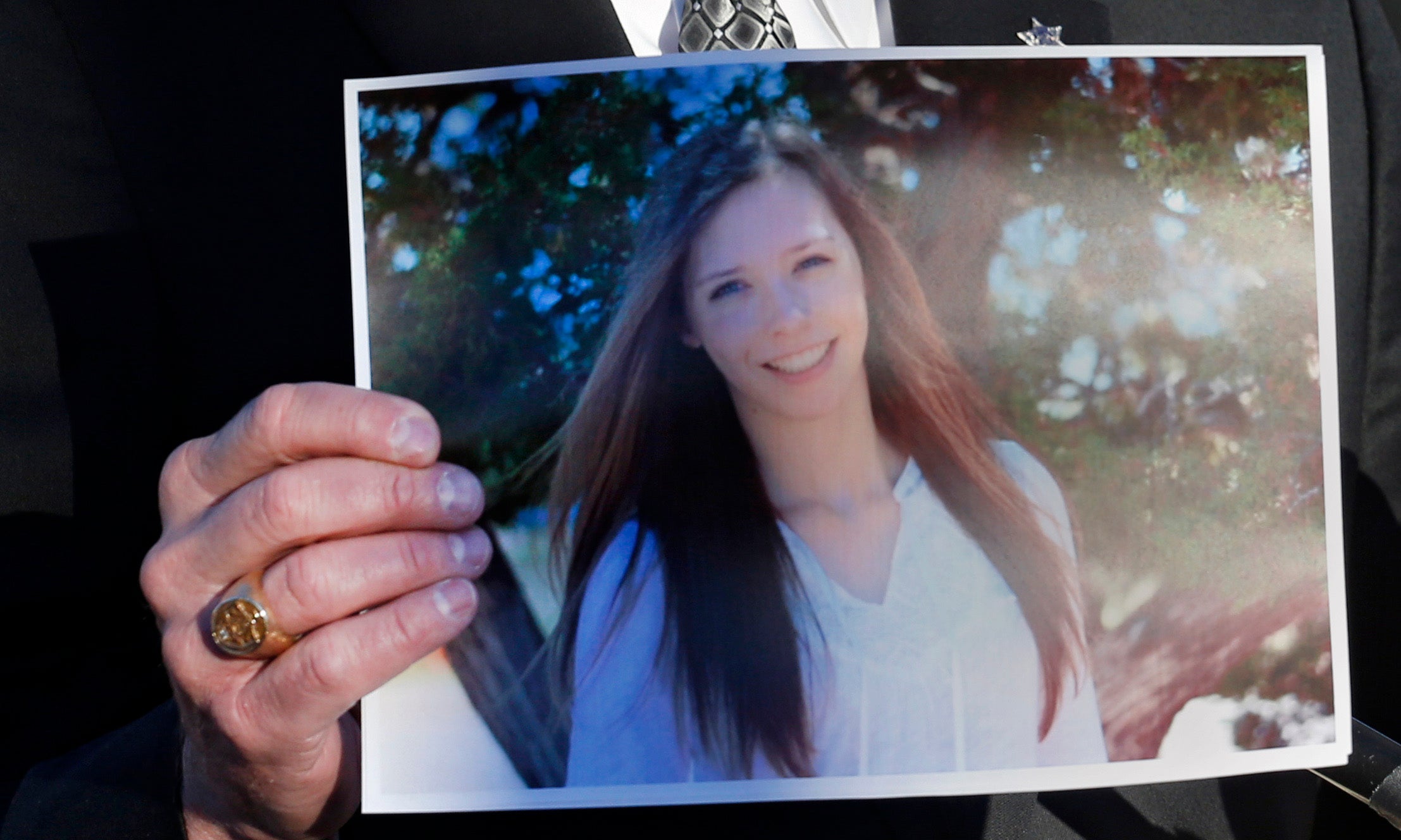 Sheriff: Wounded Colorado student a victim of evil act
CENTENNIAL, Colo. -- A teenager who opened fire at a suburban Denver school, wounding a fellow student before killing himself, entered the school with a shotgun, a machete and three incendiary devices in his backpack and had ammunition strapped to his body, authorities said Saturday.
Arapahoe County Sheriff Grayson Robinson said Friday's shooting at Arapahoe High School by 18-year-old Karl Pierson likely was motivated by retaliation against a librarian at the school.
Robinson said that it appeared the librarian was the initial target but that the gunman planned to hurt multiple people.
He said the teen bought the pump-action shotgun legally Dec. 6 at a local store.
Anyone over 18 is allowed to buy a shotgun in Colorado; only those over 21 can legally buy a handgun.
Robinson identified the wounded student as 17-year-old Claire Esther Davis. Robinson said she was likely not a target but was in the wrong place at the wrong time. He said Pierson shot Davis at point-blank range.



"She is an innocent young lady and she was an innocent victim of an evil act of violence," he said.

Robinson said there was no time for anyone to protect themselves or to try to escape.


He said that on entering the school, Pierson fired down a hallway, shot Davis, fired again, and then went to the library where he fired once again and ignited one of the Molotov cocktails.

When Pierson went into the library, the faculty member realized Pierson was looking for him and, with a janitor, left the school, the sheriff said.

"It is my very strong opinion that this individual would not have come to this school armed with a shotgun and multiple rounds of ammunition had he not intended to use those rounds of ammunition to injure multiple people," the sheriff said.

Pierson was a skilled debater with strong political views who had been disciplined by a faculty member but remained part of the speech and debate team, Robinson said.

The disciplinary action, and a threat associated with it, took place in September, he said.

Earlier reports said that Pierson had been kicked off the team.


Pierson killed himself in the school's media center as police moved in, a minute and 20 seconds after entering the building, the sheriff said. His body was found about a half-hour after the shooting was reported.

"Our initial investigation is causing us to believe that this shooting was the result of revenge on the part of the shooter because of a confrontation or a disagreement between the shooter and the teacher," Robinson said.

Students described Pierson as an outspoken, sometimes goofy and smart student who often would talk about his beliefs during class, sometimes even debating his teachers. They also said he was an Eagle Scout who finished at the top of speech competitions.

Pierson competed in extemporaneous speaking - in which students prepare short speeches on current events - in the National Forensic League's national tournament in June in Birmingham, Ala. He did not advance to the elimination rounds, the league said.

This year's yearbook also listed him as being a member of the cross-country team.

Students said Pierson held communist views and liked to discuss current events and issues, offering his own solutions. None said Pierson was bullied for his beliefs.

"He would speak for himself. He would not be afraid to tell someone how he feels," said Zach Runberg, 18, a fellow senior who had an English class with Pierson.

"People would talk to him, nice conversations," Runberg. "He's a nice, funny kid. He had some good, intelligent jokes."

The investigation unfolded as students raised money to pay for the medical care of the wounded student. Friends posted prayers and comments for her on Twitter under #prayforClaire.

A fundraising poster was set up on a fence at the school as students returned to pick up their cars left behind during the shooting.

Senior Chris Davis said he helped organize the effort in hopes of helping his classmates and the larger community heal. The poster read "Warriors always take care of one another," an unofficial school saying often referenced during morning announcements. Many students also posted the motto on social media pages.

"I feel like it's going to make us a stronger senior class and school as a whole," Davis said. "Everyone went through it, and we all know people experienced it in their own way, and we just need to be there for everybody."

Davis, whose locker is right next to the victim's, described her as someone who loves horses, has a lot of friends and always seems happy. He planned to visit her at the hospital Saturday night.

Pierson, whose parents were divorced, lived at least part of the time with his mother in a higher-end neighborhood in suburban Highlands Ranch. The home and others have three-car garages, and a country club is nearby. The front door of the home was covered with plywood Saturday after authorities conducted a search overnight.

The sheriff said Pierson's mother was out of town at the time of the shooting.

Challon Winer, who lives across the street from Pierson's home, said he often would see the teen mowing the lawn or shoveling snow from the driveway.

"I noticed that he didn't look extremely happy, but he was a teenager," subject to the normal moods of that age group, Winer said.

In recent days the teen's schedule appeared to change, and he left the house a little later than usual, Winer said.

Winer said Pierson's mother, Barbara Pierson, has worked with the Neighborhood Watch group and sometimes sent emails reminding residents about safety precautions.

"She seemed aware of what was going on," Winer said.

He said he had occasional neighborly chats with Barbara Pierson but didn't know the family well.

Following the shooting, authorities evacuated hundreds of students in an orderly procession - a demonstration of aggressive security measures developed by police and schools following the 1999 shooting at Columbine, some 8 miles west of Arapahoe High.

After that tragedy, police across the country developed "active shooter" training in which responding officers rush toward gunfire - stepping over bodies and bleeding victims if necessary - to stop the gunman.

Before Columbine, officials followed a contain-and-wait strategy in which arriving officers set up a perimeter to contain the situation, then wait for SWAT team members trained in military tactics to bring down the gunman.

The Arapahoe shooting came a day before the one-year anniversary of the Newtown, Conn., attack in which a gunman killed 20 children and six adults at Sandy Hook Elementary School. About 200 people, including relatives of the victims of last year's Aurora theater shooting, gathered in a park in Denver to remember those killed in Newtown.
Thanks for reading CBS NEWS.
Create your free account or log in
for more features.