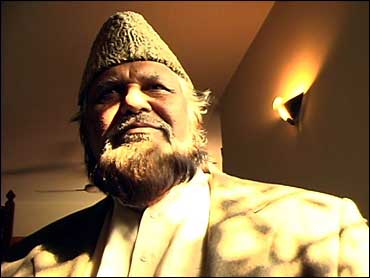 Sheik Mubarek Gilani is the man Daniel Pearl was on the way to meet him when The "Wall Street Journal" reporter was kidnapped.
Gilani is a mysterious figure in the Islamic world. He is said to be a direct descendant of the Prophet Mohammed. But for Pearl two other things set him apart. First, Gilani along with his followers have appeared on the State Department's list of terrorist organizations. Second, and even more provocative, the sheik has thousands of disciples who live right here in the United States. Dan Rather reports.
Pearl was following a lead. He thought that Richard Reid, the alleged shoe bomber, may have been a part of Gilani's network of disciples. When 60 Minutes II Reporter George Crile arrived in Pakistan on Feb. 11, 19 days after Pearl had been taken captive, Pearl's fate was still unknown. But Gilani was now behind bars, a principal suspect in Pearl's kidnapping.
In the world of militant Islam, Khalid Khawaja seems to be a friend of just about everyone. Osama Bin Laden is one of his closest friends. But he is even closer to Gilani, and that's why last January, when Pearl wanted to reach Gilani, he came to Islamabad to find Khawaja.
Khawaja told Crile that he had met with Pearl. "He came to me, in, I think, in the end of September, maybe. Or, somewhere in that, he called me from Bombay. That he is coming to Karachi. Then he came to Karachi. And he asked me to introduce him with some people in Karachi. I did that." He says he specifically told Pearl that Sheik Gilani would not see him.
"He kept on calling me on various occasions, and asking my opinion, and discussing certain things with me. And then he just disappeared," says Khawaja.
Pearl disappeared into the hands of his kidnappers in Karachi and soon after, Gilani was jailed as the principal suspect.
"I have all my sympathies and- my feelings for Daniel. I was more worried about Mubarak Gilani and his family, who are in fact kidnapped, because there's nothing against them. There's no case," says Khawaja.
Crile first met Khawaja more than a year ago, when he introduced the former to the world of Osama bin Laden. Well before Sept. 11, Khawaja warned that America was on a collision course with Islam.
This year, Khawaja took Crile into the world of Gilani. Seven days after being jailed in connection with the Pearl kidnapping, Khawaja was the first to hear the news of Gilani's release. He told Crile that Gilani wanted to see him.
The atmosphere was tense throughout Pakistan when Khawaja set off with Crile that afternoon to meet the Gilani. Cars were being stopped and searched, houses raided. Pakistani and American officials were turning the country inside out, trying to find Pearl.
Before the kidnapping, few had heard about Gilani. But for years, the U.S. government had kept him and his organization in the State Department's report on terrorism. The same report that al Queda now dominates.
In the report, Gilani's organization was described as an "Islamic sect that seeks to purify Islam through violence." His followers, who call themselves The Muslims of America," are based in the United States, thousands operating in 19 states across the country.
Most of them are African-American Muslims, who live in self-contained Islamic communities, like one they named Islamville in South Carolina, with its own mosque, its own school and more than 100 residents. All of them accept Gilani as their ultimate authority.
"I am telling you, Osama doesn't have many people in America," Khawaja says. "But here (in Pakistan), he has lots and lots of followers there and followers who are, I am telling you, I am sure of one thing, Osama does not have even one of his followers as committed as Sheik Mubarak Gilani. Osama does not have even one as committed as the least of his people.
On Feb. 12, Crile and Khawaja reached the outskirts of the city of Lahore and wove their way through the back streets and dirt roads that lead to the sheik's walled compound. The sheik welcomed them into his home. Was this man at the heart of a terror network that threatened the U.S.? Was he behind Richard Reid? Crile had the opportunity to ask those questions, to a man who does not operate in public and does not give interviews.
Gilani said that he had nothing to do with Pearl's kidnapping. He also said he did not know anything about Richard Reid, and that Reid was not part of his group.
As the sheik explained, he doesn't see outsiders, and the last interview he granted was nearly a decade ago. But over the course of two days, he continued to answer Crile's questions.
Gilani also said he was not part of al-Qaeda. "Why should I be part of it? I don't, I just - I'm a reformer, educationist. And I am not part of anybody." He also said he didn't know bin Laden, and has never met him.
"I mean, I keep to myself. And I do what I think is best for the people who follow me. First is peace. You know, another is they should work hard for a living. And they should be honest, good, trustworthy. That's all I told them. I know- if anybody does anything wrong, why blame me? Will you blame the pope if somebody, some Christian, does something wrong?"
Gilani says that he is used to being a suspect whenever there is a terrorist act against the U.S. He wanted to talk about what he sees as the most serious threat to the world, why bad things happen in America, including acts of terrorism. These bad things, he says, are caused by invisible forces.
"There are beings who are not visible to you," he says. "But they inhabit this earth. And they are damaging, causing psychotic diseases, fits, epilepsies. And controlling the agents, controlling the human beings."
Gilani says he can control those evil forces. He says that he is not a threat to the U.S., but could be its salvation.
To understand why, he points to an American television show "The X-Files." He says the mind control and evil influence that aliens wield over human beings in the program is much like the power of the invisible forces he believes in.
"What is an X-file? Most of things - could have happened or will happen," Gilani said. "Human beings can be made to do things against their will. They can be made to commit crimes. They can made to go and kill people. You know? And all your missiles, all your rockets, space ships go up. And electronics, they can be damaged, influenced, and misdirected through the agencies of gin beings."
Muslims all over the world also believe in these invisible evil forces that are described in the Koran. The sheik feels that these forces are a much bigger threat to the U.S. than terrorism. He says the United States should thank him for passing on his message about the invisible world instead of accusing him of terrorism.
Gilani says that his followers are not anti-American. "In America, the Muslims are better than any part of the world," he says. "They have more freedom. They are more facilities of life. Where will they go? OK, they do something wrong, where will they go? I don't want them. That's their country. The American Muslims are better off in America than anywhere else. And they will never do anything wrong against their country. That is my directive to you and to them."
This is not exactly the marching orders you would expect from a man who had been listed in the United States report on terrorism. But Gilani and his followers, in fact, were taken off the list two years ago. And Gilani's praise for the United States seems to set him apart from so many others in Pakistan.
While Crile was there, it was confirmed that Pearl had been killed. To Khawaja, Pearl's murder represented a new level of anger moving through the world of militant Muslims. He said that Americans were no longer safe in Pakistan.
"My people did not like my roaming around with you, also. They would always tell me that 'you're making a mistake. These people are no good.' And I am telling you, I fear that for your security and safety here. Because I don't think so, you are very safe. This is why my even family today, told me to request you to go back."

Thanks for reading CBS NEWS.
Create your free account or log in
for more features.