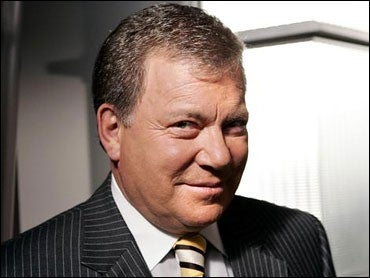 Shatner Sells Kidney Stone For $25,000
An online casino has a piece of Capt. Kirk.
William Shatner has sold his kidney stone for $25,000, with the money going to a housing charity, it was announced Tuesday.
The 74-year-old actor reached the agreement Monday to sell the stone to GoldenPalace.com.
"This takes organ donors to a new height, to a new low, maybe. How much is a piece of me worth?" he said in a telephone interview.
GoldenPalace.com is noted for its collection of oddities, which includes a partially eaten cheese sandwich thought to contain the image of the Virgin Mary.
"This is a bold new addition to our fleet," GoldenPalace.com Chief Executive Officer Richard Rowe said in a statement.
The money will go to Habitat for Humanity, which builds houses for the needy.
"This would be the first Habitat for Humanity house built out of stone," joked Darren Julien, president of Los Angeles-based Julien's Auctions, which handled the sale.
Shatner, who played Kirk on the original "Star Trek" TV show and won Emmy Awards for his roles on "Boston Legal" and "The Practice," passed the stone last fall.
The stone was so big, Shatner said, "you'd want to wear it on your finger."
"If you subjected it to extreme heat, it might turn out to be a diamond," he added.
Shatner said the idea of selling the stone came up after "Boston Legal" raised $20,000 for Habitat for Humanity. With the money for the stone, Shatner said there is about enough funding to build half a house.
GoldenPalace.com originally offered $15,000 for the stone but Shatner turned it down, noting that his "Star Trek" tunics have commanded more than $100,000. His counteroffer was accepted.

Thanks for reading CBS NEWS.
Create your free account or log in
for more features.