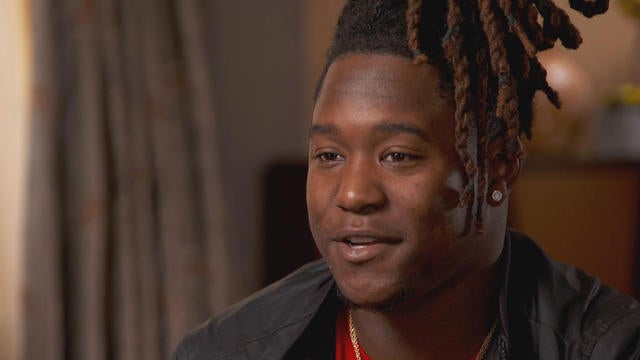 Meet Shaquem Griffin, the one-handed player who's probably headed to the NFL
Wearing a prosthetic grip on his left arm, Shaquem Griffin put up an astonishing 20 reps in the bench press at last month's NFL Combine, where prospective draft picks show their skills. The performance bumped up his draft stock in NFL circles -- and his popularity outside them.
Griffin has spent a lifetime proving the doubters wrong, and expects next week's NFL draft to be no different. He hopes his hard work and determination will take him to the pros, and his message to the masses.
"I'm always gonna be smiling, I'm always gonna be in a good mood. And, you know, if somebody tell me what I can't do something, I mean obviously, you know, how I go. I just prove them wrong," Shaquem told CBS News' Dana Jacobson.
That determined mindset is part of Shaquem's DNA. Due to a congenital birth defect, he was born with a nonfunctioning but pain-filled left hand. He was the one, at age four, who told his parents it was time to amputate the hand.
"It was just so sensitive to touch and everything else, that I remember the night where I wanted to be Dr. Griffin. ... And I remember I got up and climbed on top of the counter to get a knife out, trying to cut my fingers off ... and my mom caught me in the kitchen," he recalled.
"And I'm holding him, just trying to put him back to sleep. ... I don't want him to go through that pain. It was just that bad," his mom, Tangie Griffin, said.
The next morning they went to the hospital. After that, 4-year-old Shaquem never looked back.
"I remember after the surgery, the next day my mom was like, you know, 'Don't get your bandage dirty. Don't go outside and throw the ball.' But I came back inside with a football in my hand with a bloody bandage, but I knew I felt better. And I was just happy to play. I mean the joy that I have for me to play, to play the game with my brothers was more than anything," he said.
Especially playing with twin brother Shaquill. But when his brother came home, one hand down, Shaquill didn't see any difference. But not everyone saw Shaquem through the same eyes as his twin brother – especially when it came to football.
He and Shaquill played alongside each other at Lakewood High School in St. Petersburg, Florida. Both earned football scholarships to the University of Central Florida, a package deal that his more heavily-recruited brother insisted upon. But Shaquem's collegiate transition was tougher. He was relegated to the sidelines his freshman year, while watching his brother thrive.
"It's hard. You know, going through that ... and I refused to let myself down. I refused to let my family down. I refused to let my brother down, because he sacrificed for me," Shaquem said. "And I always told him, 'As long as one of us playing football, we both playing football.' As long as I'm watching him play, doing his thing, I mean, I was happy. I mean I'm living through you. And now it's kinda good. Now we both living," Shaquem said.
Shaquill is heading into his second season with the Seattle Seahawks while Shaquem is looking to take his own NFL leap this year. Shaquem capped 2017 by earning defensive MVP honors in UCF's Peach Bowl win over Auburn, sealing an undefeated season.
But he didn't let up, continuing his workouts back alongside brother Shaquill who pushed Shaquem the way only a brother can. His chance to show off the hard work came with a late invite to the NFL Combine, where the question of being drafted is no longer "if" but "when."
He's blowing up Twitter and the mainstream press by doing what his younger self had done: proving the doubters wrong. His 20 reps in the 225-pound bench press, more than twice the number he'd ever lifted in college. His 40-yard dash in 4.38 seconds, the best time at the combine for a linebacker in more than a decade and the same time his 30 pounds lighter brother ran the year before.
"I knew it was gonna be a really fast time. But I didn't imagine it to be that fast, and the same time of his brother. The same time. Unbelievable," Tangie said of her son.

The rivalry with his brother is part of what keeps Shaquem going.
"We're gonna be 60 years old or 75 with walkers, talkin' about who can run the fastest 40," he joked.
Just days away from potentially going pro, Shaquem says he'll never lose that childhood love of the game. As a kid he'd sleep in his football jersey but would have slept in his whole uniform, helmet and all, if he could.

"But I mean it's just the joy of it. I mean it's a rush for me….It wasn't for money. It wasn't for being known. It wasn't because I wanted to be famous, a famous NFL player. It's because I genuinely love playing football."
He also sees it as his purpose.
"For me is to be able to set a standard and get away from people saying – setting limitations on others, because, you know, a lot of people say, 'oh, he has one hand.' I never seen one like this," he said. "So let me just show you what I can do."
Inspiration for others, the same way one-handed pitcher Jim Abbott, a former major leaguer, once inspired Shaquem.
"I remember a teacher told me about him. I'm like, 'No way. No way.' And he showed me a video of him throwing' the ball. And I tried it. It was an epic fail, so I knew baseball wasn't for me," he said.
"I always say, 'What you do can help one kid, and one kid could help a thousand later.' And he already done that. He helped me, and now I can be able to help others….Because I never wanna stop helping people and inspiring people to be the best that they can be. So even without football, football doesn't define Shaquem Griffin. It's who he can help that defines him."
Thanks for reading CBS NEWS.
Create your free account or log in
for more features.