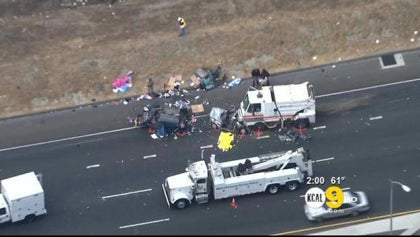 Sexting to blame for deadly crash in California?
A Caltrans employee who was involved in a deadly crash is back behind the wheel of a truck that encourages everyone to drive safely.
But two years ago, CBS Los Angeles reports, the employee was involved in a fatal crash that occurred just after he received a sexually suggestive text from his girlfriend.
Despite efforts to find out what the text said, CBS2 Investigative Reporter David Goldstein says, Caltrans tried to stop him from reporting it, and driver Dino Morris didn't want to talk about it.
"I'm not talking to you guys, man," Morris told Goldstein.
The four-vehicle collision in October 2013 involving a Caltrans sweeper driven by Morris caused a chain reaction accident on the 710 Freeway, killing Rogelio Torres after his car was crushed by the 20,000-pound sweeper as it traveled more than 40 mph.
Fullerton resident Cheryl Durbin flipped over in the next car, her Toyota Camry ending up upside-down.
"It was the strongest impact I've ever felt in a car," she said. "It was unstoppable."
Durbin ultimately had to be cut out of her vehicle with the Jaws of Life.
"What do you remember?" Goldstein asked.
"I remember driving along and suddenly feeling a huge impact, and I remember my car just flying forward," said Durbin. "I broke two lower-back bones, I broke my rib and collapsed my lung, and I cut my eye and broke my big toe."
Durbin and the Torres family have sued Caltrans. Their cases are pending.
CHP investigators say Morris never braked before impact. Attorneys claim text messages may have distracted him.
In his deposition, Morris was asked about sexting with his girlfriend just before the crash.
But when CBS Los Angeles requested a copy of the texts, Caltrans filed a motion with the court to keep them under wraps.
The agency cited previous investigations about the department conducted by Goldstein, saying there is little doubt that his sole interest in obtaining discovery material in this case is to publish "yet another similarly disparaging exposé."
That motion was denied.
The string of texts start with Morris' girlfriend saying, "We will be having sex all day" and follows with "sex, sex, sex."
At 8:06 Morris responds. She texts him back, "uuuuu love it," followed by "I love you" at 10 a.m.
Her last sexually suggestive message comes at 10:56. Two minutes later, Morris plows into the cars on the freeway but testified that he doesn't remember any of the messages.
Goldstein showed Durbin the texts for the first time.
"Do you think this could have distracted him?" he asked.
"I'm sure it did," said Durbin. "It just seems so avoidable. It didn't have to happen if he had been paying attention."
Morris was eventually fired from his job at Caltrans Long Beach but only after the DMV suspended his license for six months because of the accident.
But when the suspension was up, Morris was back on the streets. We found him driving a dump truck on the same 710 Freeway where the accident occurred.
Morris earned over $70,000 in taxpayer money last year, but his accident will probably cost taxpayers millions in damages.
When Goldstein attempted to talk to Morris about it, he ran.
"Hey, Dino, were you sexting at the time of the accident?" asked Goldstein.
"No, sir," Morris replied.
"Do you drive?" Goldstein asked.
"I do still drive," said Morris.
Durbin is walking and had to have a spinal fusion nine months ago. She still feels the effects of the crash and finds it hard to believe Morris got off scot-free.
"I don't know what his consequence is then, what the consequence for taking a life and hurting someone else [is], you know?" said Durbin.
Thanks for reading CBS NEWS.
Create your free account or log in
for more features.