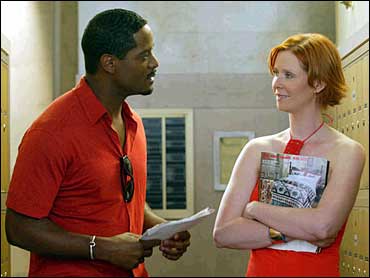 'Sex And The City' Diversifies
Miranda's new squeeze in "Sex and the City" is handsome, successful and charming. He's also black — notable for a show that has been almost uniformly white in its casting.
The series about four single New Yorkers is finally allowing the city's ethnic diversity a central role.
Blair Underwood, introduced in Sunday's episode, plays Dr. Robert Leeds, the New York Knicks team physician.
The series about four New Yorkers, starring Sarah Jessica Parker (who's also an executive producer), Kim Cattrall, Kristin Davis and Cynthia Nixon, is in its final season. (It's a divided year: 12 episodes are airing through Sept. 14, then the series is to return in January 2004 with eight concluding episodes. Underwood is appearing through the end of the first batch.)
"We all of us, and no one more than Sarah Jessica, had lobbied for this for a long, long time," Nixon, who plays Miranda, said in an interview. "I'm a huge fan of the show, but if we had area in which we really could use improvement, it's certainly this one."
The comedy only lightly has brushed up against New York's diversity before.
Cattrall's character, bed-hopper Samantha, had a handful of flings with minorities and a romance with a Hispanic lesbian (Sonia Braga).
But the inner circle of friends and serious boyfriends remained steadfastly white. Like "Friends," another New York-set series, "Sex and the City" came under scrutiny for painting the town one color.
Last season on "Friends," a black love interest (Aisha Tyler) was introduced in a story line that, like the "Sex and the City" plot featuring Underwood, ran for four episodes.
"I think Candace Bushnell, who wrote the original columns (on which 'Sex and the City' was based), the world she writes about is extremely white," Nixon said. "And (series creator) Darren Star would say, `I know these people. I move in these circles. It's a very white circle."'
"That's an argument to be made," Nixon said. "But it is six years later now, and I think it's irresponsible. I think it's about time."
Miranda, a single mother and lawyer who's been moping about lost chances with Steve, her child's father, meets Leeds when he moves into her building. She's on the co-op board that vets potential buyers.
Here's Nixon's take on the encounter: "There's a sense Miranda is trying to push him because, A, he's a great candidate, he's a doctor, he earns a lot of money, he's very personable; B, a little diversity would be nice; and C, she's trying to hide the third thing that she thinks he's utterly adorable and would love to have him in the building.
"She's masking her attraction to him in political correctness, which I think is funny."
Underwood has been a television groundbreaker before. In 2000, he starred in the CBS drama "City of Angels," a TV rarity with its predominantly black cast. The series, which he said was unable to find its creative footing quickly enough, was canceled because of low ratings.
"There was a lot of responsibility weighing on that show. At least we did two seasons," said Underwood, whose upcoming projects include the film "How Did It Feel?" and the animated Nick at Nite series "Fatherhood," based on Bill Cosby's book. The actor just signed to star in the film adaptation of the novel "My Soul to Keep."
He found out he was being offered the "Sex and the City" role in the usual way, through a call from his agent, although the conversation started with a less-than-usual query.
"The first thing I remember hearing was, `Do you have any problem with nudity?"' Underwood recalled. "My answer was, `Hey, I'm not ashamed."'
He enjoyed every aspect of filming, especially a scene in Madison Square Garden ("The 10-year-old child inside of me that loves sports was in seventh heaven that day") and working with Nixon, whom he calls "amazing."
Underwood also expressed satisfaction with the colorblind story, which barely takes notice of the ethnic difference between his character and Miranda.
"It's a non-issue," he said. "I think that's more current in this day and age, when it's not a novelty to see interracial dating on television anymore."
That's especially true when you're dealing with characters such as those on "Sex and the City," he said, described by Underwood as "four progressive New York women in 2003."
"Who are they going to bow down to or be with concerned with or kowtow to? Not their parents or society," he said.
Does that make it more surprising that the series had refrained from such relationships? "I didn't have that conversation with them (the producers)," Underwood said. "But if this is their final season, it's time."

Thanks for reading CBS NEWS.
Create your free account or log in
for more features.