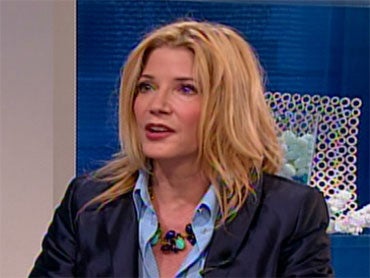 "Sex and the City" Creator on the Phenomenon
"Sex and the City" got its start with Candace Bushnell and a best-selling book inspired in part by the author's own life.
And while we're all familiar with the iconic character Carrie Bradshaw and her love for shoes, Cosmos and, of course, Mr. Big, just what was the real-life Carrie Bradshaw like?
Photos: "Sex and the City 2" Premiere
"Sex And The City 2": The Men
Photos: Filming of "Sex And The City 2"
Special Feature: "Sex and the City 2"
Sarah Jessica Parker: Always an NYC Star
The woman behind the franchise answers some of those questions in a new prequel called "The Carrie Diaries." (read an excerpt.
And she talked all-things "SATC" with co-anchors Erica Hill and Chris Wragge in "Early Coffee" on "The Early Show on Saturday Morning."
The book, Bushnell said, is aimed at young adults, 14-and-up, but seems to be catching on as a mother-daughter book.
As for what "SATC" became, "Every once in a while, it hits me, but then I usually get a call from my editor who will say we need some new chapters of the next book, so I'm pretty down-to-Earth."
"It started as a column in the New York Observer and it actually took off right away. And I always felt like it was my big break. I was single, I was 34, you know, hadn't met the right guy. Had tons of girlfriends. They were all single. And the question was. 'Why are there so many great single women and no great single men to marry them?" '
That, Hill pointed out, is a theme that endures and is probably the staying power of the brand right there.
"Exactly," Bushnell agreed. "And I think a lot of 20-somethings feel the same way. Relationships are always of interest."
Bushnell said she "always knew that I wanted to be a writer from the age of eight. So all my writing angst, I put into the character. But there's actually nothing that happened to (Bradshaw) that happened to me."
To see the entire interview, click on the video below:
Thanks for reading CBS NEWS.
Create your free account or log in
for more features.