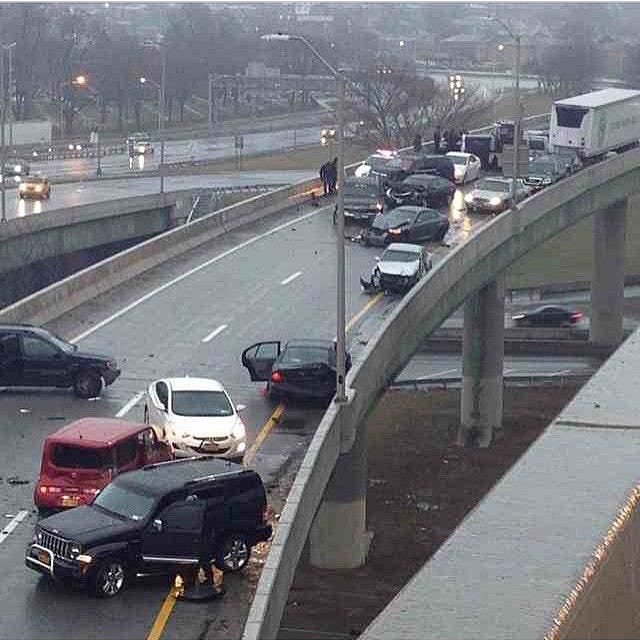 Ice causes hundreds of accidents across Northeast
Across the Northeast, a dangerous mix of rain and freezing temperatures iced over roads, sending cars sliding, reports CBS News' Jericka Duncan.
The National Weather Service urged drivers in New Jersey, where at least one person was killed, to be cautious Monday morning as temperatures were expected to drop below freezing in those areas overnight. Hundreds of other accidents in the state were reported, including a 15-car pileup that shut down part of the highway near the George Washington Bridge.
"It was black ice, like completely black ice," one driver said. "People were screaming 'Get out of your car, get out of the road, get out of the road.' And then I turn around and another car was coming, same thing happened, one car after another."
Cell phone video shows paramedics and bystanders rescuing a man involved in a 30-car wreck in northern New Jersey. They used a blanket to drag him across the slick road because an ambulance couldn't get close enough.
"It was just a big load of cars, a lot of mayhem and chaos going on," motorist Colleen Graves said.
Conditions are expected to improve Monday as temperatures reach the 40s midday.
Pileups in Pennsylvania killed at least four people and injured dozens more. In one accident, two people died and several cars were nearly sliced in half after they slammed into a tractor trailer.
"It's pretty horrific," one driver said. "I started pumping my brakes and just hoping I would stop."
With more than 400 accidents reported in the area, the message from police was simple: avoid travel unless absolutely necessary.
While officials are hoping there won't be as much traffic because of the holiday, they're still warning it doesn't take a lot of ice to make for dangerous and sometimes deadly conditions.
Thanks for reading CBS NEWS.
Create your free account or log in
for more features.