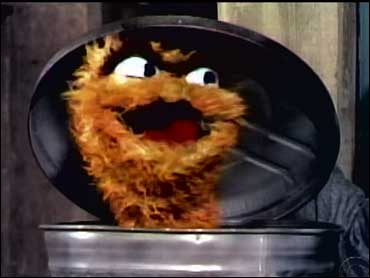 Sesame Street... For Adults Only?
There's something wrong with a picture from the original Sesame Street - little children riding bicycles without helmets.

Other scenes, too, from the original Sesame Street could be too seedy for today's kids, CBS News correspondent Richard Schlesinger reports.

The first few seasons have just been released and come with, of all things, a warning.

"These early Sesame Street episodes are intended for grownups and may not suit the needs of today's preschool child," the warning reads.

"Sesame was created in the '60s, and it was a bit edgier, if you will," said Sherrie Rollins Westin, executive vice president of Sesame Workshop.

What parent today would want their child to see kids running through a construction site or jumping on an old box spring? Scenes like the ones included on the new DVD would probably not make it into today's program now.

"We wouldn't have children on the set riding without a bicycle helmet," Rollins Westin says.

And what's that little girl doing with that man?

"In the very first episode, Gordon takes a little girl's hand who he's just met on the street, befriends her and takes her into his home to give her ice cream," Rollins Westin said. "That's something we wouldn't do on the show today."

Today's kids might notice a few more differences in the original Sesame Street, if they pay attention.

Schlesinger asked a couple kids who'd watched the old editions of Sesame Street: "Did it look like Sesame Street that you'd seen before?"

"No," one child said.

"Oscar didn't look the same because he's supposed to be green," said another.

Oscar turned green in season two, but some of today's producers thought the early Oscar might be too grouchy. And cookie monster … well his diet is a problem when today's parents are worried about childhood obesity.

He also smoked a pipe in one sketch - ate it too. Still ... none of these parents thought the old episodes needed a warning.

"If we're guilty of anything it's perhaps taking our responsibility to children too seriously," Rollins Westin said.

It's serious business, Sesame Street, and as times change the characters have to keep up - even though some things haven't changed since Episode One.

Schlesinger asked the kids: "Who's your favorite character?"

"The bird," said one child.

"I liked the bird. He was really handsome," said another.

---
More resources:
ParentPlay.com
Thanks for reading CBS NEWS.
Create your free account or log in
for more features.