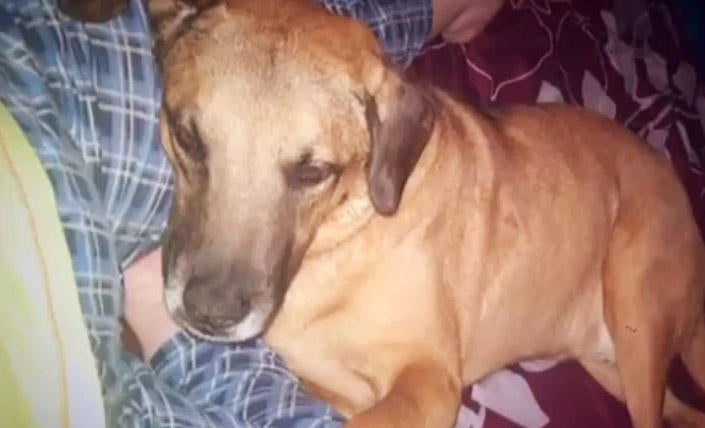 Serial pet killer on the loose in Nevada?
PAHRUMP, Nev. -- A pet poisoning spree has re-opened old wounds for a small community east of Las Vegas.
The deaths of several animals has neighbors fearing someone in Pahrump, Nevada may be a serial animal killer, reports CBS Las Vegas affiliate KLAS-TV.
Over the past week, five pets have gotten sick from an odd, green piece of meat, the station says. The meat doesn't have a normal texture; it's actually kind of rubbery.
Authorities say the meat was soaked in some kind of substance so hazardous it's killed three animals and sickened at least two more.
A cat that was found before it could be treated died first. Next came Princess, a German Shepherd, and Tink, a chihuahua that was a service dog. Both belonged to Sabrina Buckley.
"I've had pets my whole life, and I can't imagine hurting someone else's family member the way that we're hurting right now," Buckley told KLAS.
Another animal poisoned was Clyde, a 9-year-old pit bull who's been in critical condition but showed a little progress Tuesday. Clyde was able to go to the bathroom, eat food and drink water.
The latest incidents stirred up memories for area residents of a similar spate of poisonings in 2015.
"There wasn't anything they could do," said Elizabeth Payton, whose dog was poisoned at the time. "It was too bad."
The poison spread so quickly through Copper, a 12-year-old German Shepherd, that the vet couldn't save him.
"He was the most mild-mannered dog; he played with everybody," Payton recalled.
She says Copper and several other dogs died in Nov. 2015 when tainted meat was first tossed around the neighborhood. It's been nearly a year and a half since the incident, but Payton says there's no expiration date on justice.
"Animals can't fight for themselves, pick on somebody your own size," Payton said.
The newest batch of animal poisonings has brought back pain for some and paranoia for others.
Local officials posted a sign in the neighborhood warning residents not to leave their dogs outside alone.
"Nobody deserves to go through any of that again, ever," Payton said.
The Nye County Sheriff's Office says there's a clear pattern, and detectives are determined to catch whomever is behind it this time around.
Sheriff's Sgt. Michael Eisenloffel says, "It's definitely a serious crime, and the consequences are equally serious."
Thanks for reading CBS NEWS.
Create your free account or log in
for more features.