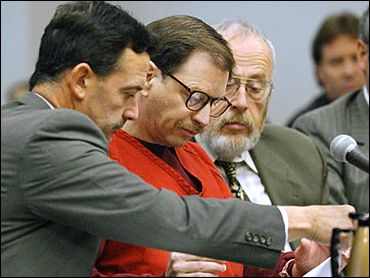 Serial Killer's Twisted Motivation
It took almost eight minutes for the names of 48 women to be read aloud. Each time, Gary Leon Ridgway calmly said "guilty," admitting to being the nation's most prolific serial killer as part of a plea deal that keeps him off the state's death row.
"In most cases, when I killed these women, I did not know their names," Ridgway said in a statement read in court. "Most of the time I killed them the first time I met them, and I do not have a good memory of their faces."
Ridgway's statement opened an extraordinary window on the twisted mind of a serial killer.
"I wanted to kill as many women as I thought were prostitutes as I possibly could," he wrote.
He wrote he strangled many of the women, mainly runaways and prostitutes, during sex, and that he left some bodies in "clusters" and enjoyed driving by the sites afterward, thinking about what he had done. He said he sometimes stopped to have sex with the bodies "for two or three days ... till the flies came."
Victims' relatives wept quietly in the courtroom.
"It was hard to sit there and see him not show any feeling and not show any remorse," said Kathy Mills, whose daughter Opal was 16 when she turned up in the Green River in 1982.
Ridgway, 54, a short figure with glasses, thinning hair and a sandy mustache, pleaded guilty Wednesday to being the Green River killer, who over decades strangled women on the edges of society.
"Choking is what I did and I was pretty good at it," he wrote in his statement, adding that he killed "so many women I have a hard time keeping them straight."
Relatives who packed the courtroom hoped to emphasize that Ridgway's victims were more than numbers on a gruesome list. Some held their slain relatives' photographs; others wore buttons with their likenesses.
"It's very important to us the world know she was a person," said Kandice Watt, whose sister, Roberta Hayes, was 21 when she was last seen alive in 1987. "First and foremost, she was my sister, my brother's sister, and she was important to us."
Beginning in 1982, Ridgway picked up prostitutes, strangling them and molesting their bodies, which he left in the Green River and other inconspicuous dump sites around Seattle. Nearly 20 years passed before DNA evidence linked him to the crimes.
For a half-hour Wednesday, he listened in court with an utter lack of expression as his own accounting of how he picked up each victim and where he dumped the body was read aloud. In the most matter-of-fact way, he confirmed the details, responding "yes" over and over in a clear but subdued voice.
At a later news conference, King County Prosecutor Norm Maleng said his first reaction to striking a deal that would take the death penalty off the table was no: "If any case screams out for the death penalty, this was it."
But he said he finally agreed to bring a resolution to dozens of unsolved cases. Investigators had evidence to pursue charges in seven cases but had exhausted their leads in the others, and the victims' families — including those whose loved ones had never even been found — deserved answers, Maleng said.
Some family members disagreed.
"He don't deserve to live another day," said Debra York of Seattle, whose 17-year-old niece Cynthia Jean Hinds was killed in 1982, her body left on the bank of the Green River.
As part of the agreement, Ridgway must lead task force detectives to evidence, answer all their questions and submit to lie-detector tests. He led them to the bodies of four women in recent months.
"The Green River nightmare is over," Maleng said after the proceeding.
But Sheriff Dave Reichert said the investigation continues and that charges in more cases were possible. Under the plea bargain, Ridgway is not protected from the death penalty in other jurisdictions. He has not been charged elsewhere, but admitted dumping victims outside the county and in Oregon.
Other serial killers have bragged of murdering many dozens of victims, but Ridgway's plea agreement, signed June 13, puts more murders on his record than any other serial killer in U.S. history.
Ridgway's lawyers said he was sorry and will express that to the families at his sentencing, which will be held within six months. Defense attorney Tony Savage said Ridgway's emotions came "in private, in emotional ways, in tears and in words. ... He feels terrible remorse."
Ridgway has been married three times and has a son, but none of his family members attended the hearing.
The Green River Killer's murderous frenzy seemed to stop as suddenly as it started, with investigators saying the last victim had disappeared in 1984. But one killing Ridgway admitted to was in 1990, and another was in 1998.
"I picked prostitutes as my victims because I hate most prostitutes and I did not want to pay them for sex," he said. "I also picked prostitutes as victims because they were easy to pick up without being noticed. I knew they would not be reported missing right away and might never be reported missing."
In questioning Ridgway last summer, one detective asked him to rate himself one to five on a scale of evil.
"I'd say a three," Ridgway replied.
"Three?" the detective said.
Ridgway answered: "For one thing is, ah, I killed 'em, I didn't torture 'em. They went fast."
Thanks for reading CBS NEWS.
Create your free account or log in
for more features.