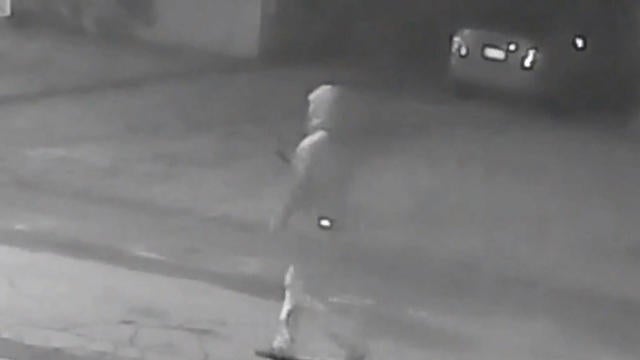 Possible serial killer "terrorizing" neighborhood in Tampa, Florida
A serial killer might be on the loose in Tampa, Florida.
Police are warning people not to walk alone at night in the Seminole Heights neighborhood after a third person in 10 days was shot to death on Thursday night.
As CBS News correspondent Manuel Bojorquez reports, police seem certain their murders are all connected, even though the victims did not appear to know one another.
Frightened residents did what they could to reclaim the streets of the neighborhood Friday night, chanting "Whose streets? Our streets!" a day after 20-year-old Anthony Naiboa was found shot to death on a sidewalk.
Naiboa, who was autistic, had just gotten off the wrong bus home from work when he was shot. His family knew something was wrong when he didn't come home.
"It's the most awful feeling that you can feel, that you know that your child is dead, and you have these people [are] coming to let you know, to confirm for you," said Maria Rodriguez, Naiboa's stepmother. "It's very devastating."
Police heard the shots that killed Naiboa. They had deployed extra patrols in the area after the two other murders in 10 days.
Naiboa was shot about 100 yards away from where Benjamin Mitchell was killed on Oct. 9.
On Oct. 13, Monica Hoffa's body was found in a vacant lot less than a mile away. She had been shot and killed two days earlier.
Tampa police say they have no leads, and can't determine a motive.
"We have someone who's terrorizing the neighborhood," Tampa Police Chief Brian Dugan said.
On Friday, they released surveillance video of a person walking in the area when the first murder happened. They seem certain the murders are not a coincidence.
"Through the proximity, and the timeframe, they are related," Dugan said. "There is no doubt in our mind about that."
Police are hoping the public can help, something Naiboa's stepmother said needs to happen.
"I just hope that someone in the community can speak out. Do not be afraid," she said. "It could be your daughter, your grandson, your son, your wife, your husband. Whoever may be in your family. You don't know when it's going to be your turn. Just speak up."
Thanks for reading CBS NEWS.
Create your free account or log in
for more features.