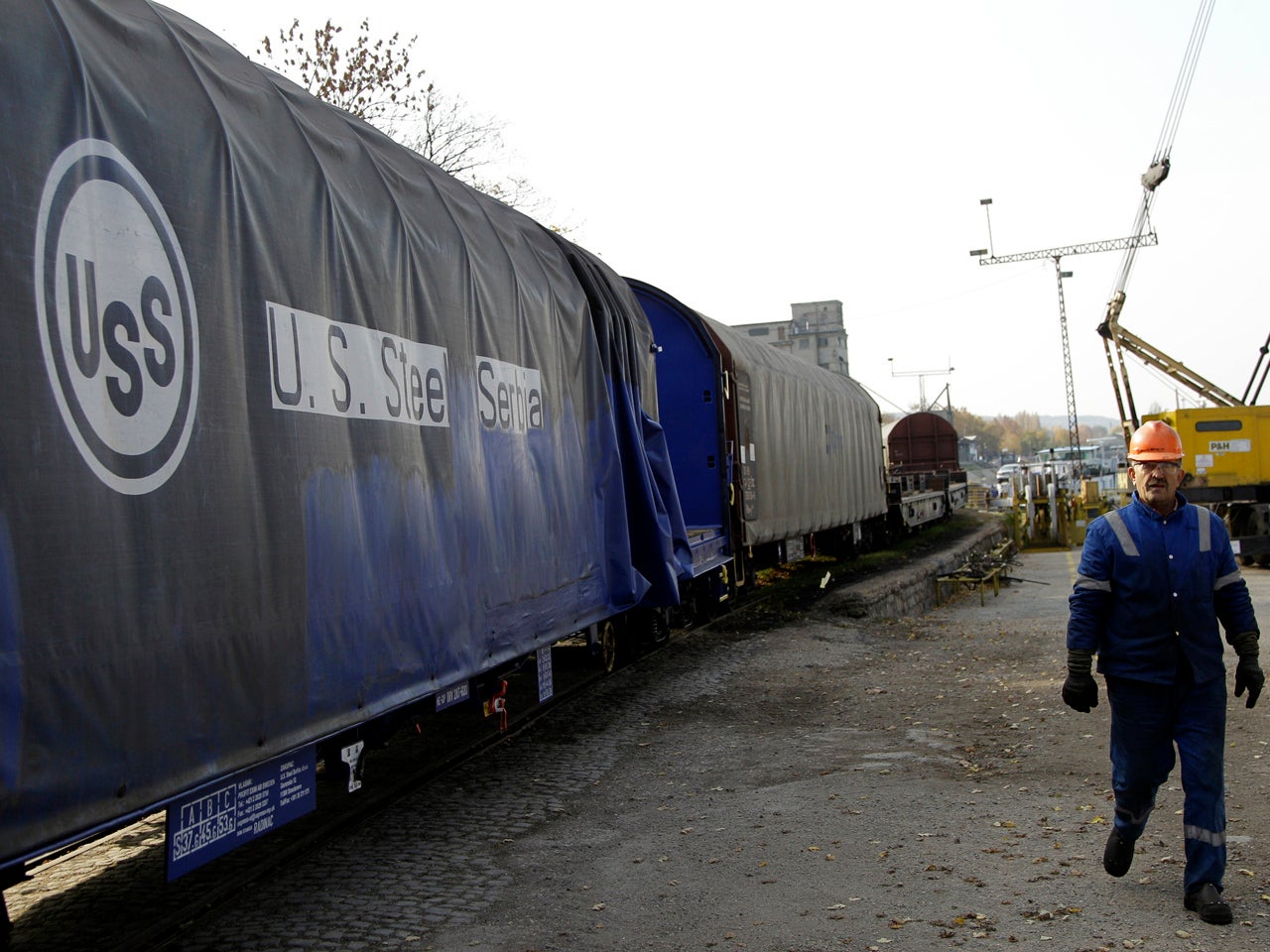 Serbia buys U.S. Steel plant; Price: $1
BELGRADE, Serbia - The Serbian government on Tuesday bought a loss-making plant from U.S. Steel for the symbolic sum of $1, hoping to avoid its closure and keep 5,400 workers employed at a time of widespread joblessness and economic hardship in the Balkan country.
Prime Minister Mirko Cvetkovic said the deal was a "forced move" caused by the global economic crisis and that the government aims to restructure and resell the plant.
He formally signed the agreement with U.S. Steel Vice President of European Operations David J. Rintoul in Belgrade.
"It is indeed with a heavy heart that we leave Serbia today," said Rintoul, whose company bought the plant in Smederevo, about 37 miles southeast of Belgrade, for $33 million (euro25 million) in 2003.
"We will miss the people of Serbia," he added.
The departure of the Pittsburgh-based giant is a blow for Serbia, whose cash-strapped economy already has been hit hard by the global crisis and a sharp drop in foreign investment.
Officially, unemployment in Serbia is 22 percent but analysts say it is actually much higher.
In Smederevo, a sense of uncertainty prevailed, though the town's mayor Predrag Umcevic praised the government's "timely and good decision."
"It is hard," says Zvezdan Kostic, one of the plant's employees. "They have been here so many years, I have no idea what will happen now."
Before U.S. Steel purchased the plant known as Zelezara (Steelworks) Smederevo in 2003, the factory was completely idle, and workers grew mushrooms in its sprawling halls.
U.S. Steel poured millions into the plant, turning it into the Balkan country's single largest exporter. In 2010, it accounted for about 10 percent of Serbian exports with $35 million (euro27 million) in foreign sales.
The plant's revival injected life in other smaller businesses and the town itself, following an era of wars and economic sanctions during the conflict in the former Yugoslavia in the 1990s'.
But as the global economy slowed down in recent years, so did the plant's incoming orders. In the first nine months of last year, it operated far below the annual capacity of 2.2 million tons and reported losses of $73 million (euro56 million).
U.S. Steel's management cited anemic economic growth — both globally and in southeastern Europe — as well as high raw material costs as the causes of the problem.
Cvetkovic said the plant's troubles "showed how serious the global economic crisis is and how big an influence it has on Serbia."
"We faced a difficult choice and we chose what we saw as a better option," Cvetkovic added, explaining that the purchase will result in the "reassigning" of costs in the state budget.
But some analysts were skeptical. "The state has made a bad move, it took control over something it does not know how to run," said economist Misa Brkic.
"Had there been any interest in that plant, U.S. Steel would have sold it for two dollars to someone," Brkic insisted.
The Serbian plant's working week has already been cut to four days as global demand dropped for its low grade steel.
Cvetkovic said the government will now appoint a new general manager and seek to resell the plant. He suggested informal contacts have been made with potential buyers in Ukraine and Russia.
Rintoul promised U.S. Steel will assist in the transition period.
U.S. Steel's other factory in the region, in Slovakia, has been more profitable because it makes higher-grade steel for the car industry.
Thanks for reading CBS NEWS.
Create your free account or log in
for more features.