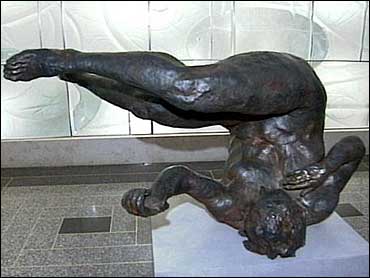 Sept. 11 Sculpture Covered Up
A jarring bronze statue in Rockefeller Center, meant to commemorate those who jumped or fell to their deaths from the World Trade Center, was abruptly draped in cloth and surrounded by a curtain wall on Wednesday.
Eric Fischl's "Tumbling Woman" depicts a naked woman with her arms and legs flailing above her head, as if in a backward somersault. It had drawn some complaints since it went on view in the complex's lower concourse.
The work, which went on view about a week ago, was initially to remain on display through Monday. Instead, a decision was made to remove it.
"We apologize if anyone was upset or offended by the display of this sculpture. It was certainly not our intent. The piece will be removed this evening," said Suzanne Halpin, spokeswoman for Rockefeller Center. It was not immediately clear where the sculpture would be taken.
Numerous news photos captured images of desperate people leaping to their deaths as the 110-story towers burned. Some passersby in Rockefeller Center, however, complained that the artist's rendition was too graphic.
"I don't think it dignifies their deaths," said Paul Labb, who was strolling through the concourse while the statue was still visible. "It's not art. ... It is very disrupting when you see it."
"The sculpture was not meant to hurt anybody," Fischl said in a statement. "It was a sincere expression of deepest sympathy for the vulnerability of the human condition. Both specifically towards the victims of Sept. 11 and towards humanity in general."
The artist, who was in Croatia, could not be reached for further comment. His agent did not return a call.
Some onlookers said there is a need for art that captures the horror of Sept. 11.
"I don't think that it's done in bad taste," Christine Defonces said before the statue was covered. "It's an artist's reaction to what happened."
A poem by Fischl, which appeared on a plaque near the sculpture, read:
"We watched,
disbelieving and helpless,
on that savage day.
People we love
began falling,
helpless and in disbelief."
Rockefeller Center worker Stephen Levine, who had passed the statue daily, discovered on Wednesday that it had been shrouded.
"It was a good thing to have here as a reminder of what happened," he said. "I'm angry that they covered her up."
"Tumbling Woman" is not the first by New York-born sculptor to attract controversy. Two years ago, Fischl made a nude, 14-foot statue honoring Arthur Ashe, facing the stadium that bears his name at the National Tennis Center in New York.

Thanks for reading CBS NEWS.
Create your free account or log in
for more features.