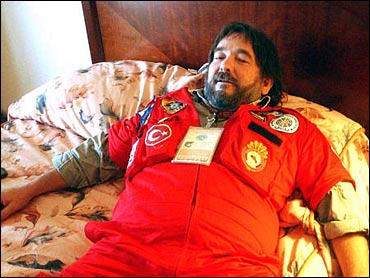 Sept. 11 Hero's Story Questioned
A published report is calling into question the story of personal heroism told by a man who claims to have waded in "toxic soup" deep beneath the World Trade Center rubble to help find bodies.
Doug Copp collected almost $650,000 from the September 11th Victims Compensation Fund and believes he's owed a great deal more.
The Albuquerque Journal, in Copp's home state, New Mexico, is suggesting that Copp has already been paid way too much.
The Journal says its investigation shows that Copp, who has traveled to numerous disaster areas around the world in the past 20 years, has a history of exaggeration and self-promotion with little evidence of real rescue work.
Copp has said he and a so-called death-detection device helped find as many as 40 bodies. He initially got support from the Journal, members of Congress and a state archaeologist before being selected for victim compensation.
Rep. Tom Udall, D-N.M., who once praised Copp's "most courageous work" in one letter to the victim fund's administrator, now seeks a federal investigation.
"I am concerned that a fraudulent claim may have been processed and paid," Udall said.
John Norman, a New York City fire chief who led the rescue and recovery effort at ground zero, said Copp's claim to have been first to search collapsed subway tunnels and only one of four people to go underground is "a fraud."
"I didn't authorize him to do anything," said Norman, who added that he probably would have had Copp arrested had he known he was at the site.
Copp received $649,885 from the commission and wants at least $1 million more to deal with 41 medical problems, the Journal reported.
When the Journal presented Copp with its findings, he said, "So now is this going to come out that there's nothing wrong with me? That it's a total fraud? ... That would be the most immoral, improper thing that I have ever heard of."
Thanks for reading CBS NEWS.
Create your free account or log in
for more features.