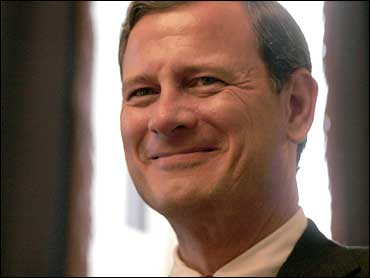 Senators Want Roberts To Reply Now
Two Democratic senators said Wednesday that they want Supreme Court nominee John Roberts to explain before his confirmation hearings why he continued to judge a lawsuit against the Bush administration while being interviewed to be a justice.
"It is clear that you have long understood the ethical issues raised by continuing to work on a case in which a party is considering you for another position," Judiciary Committee Sens. Charles Schumer of New York and Russ Feingold of Wisconsin said in a letter to Roberts.
White House spokesman Steve Schmidt said in response that "the opponents of Judge Roberts are increasingly grasping at straws trying to find a rationale for opposing him."
Roberts, a judge on the U.S. Court of Appeals for the District of Columbia, was nominated by President Bush to the nation's highest court on July 19.
That month, Roberts sat on a three-judge panel that refused to block military tribunals for terror suspects. A lawsuit against the administration was brought by Salim Ahmed Hamdan, a Yemeni who once was al Qaeda leader Osama bin Laden's driver.
But three months earlier, in April, Roberts had begun interviewing with administration officials for a possible Supreme Court spot, according to his questionnaire submitted to the Senate.
He recently recused himself from a case involving the American Bar Association, Feingold and Schumer said, presumably because the ABA was preparing its rating of him for his Supreme Court nomination.
"Why did you believe it was appropriate to continue participating in the Hamdan case while being interviewed for a vacancy on the Supreme Court?" the Democratic senators asked in the letter.
The senators said Roberts' answers will determine whether they bring the issue up at his confirmation hearings beginning Sept. 6.
"During the entire history of the United States there is no precedent for recusal because an individual has the potential to maybe be nominated" to the Supreme Court, Schmidt said. "What is disturbing about Sen. Schumer and Sen. Feingold's request is how infused with politics it is."
Later Wednesday, Sen. Dianne Feinstein, D-Calif., said she would continue trying to get some idea of Roberts' views on the 1973 Roe vs. Wade decision legalizing abortion.

After a speech to the Los Angeles County Bar Association, Feinstein told reporters: "I'm not sure what the views are. I had a private conversation and I did get a feeling — a feeling. Well, you can't take a feeling to the bank. So, it's up to me to try to ferret it out."
Feinstein, the only woman on the Senate Judiciary Committee, has said, "It would be very difficult for me to vote yes on a nominee I thought would overturn Roe vs. Wade."
Also Wednesday, two Washington lobbying groups announced their positions on Roberts' nomination, with the U.S. Chamber of Commerce supporting the nominee and the liberal People for the American Way opposing the conservative judge.
The chamber has supported many of the president's nominees and policies, while People for the American Way has opposed many of Mr. Bush's judicial appointments.
Roberts served as deputy solicitor general under the first President Bush and as an assistant to the White House counsel and the attorney general under President Reagan. Ralph Neas, PFAW's president, said Roberts was key in many of those administrations' policies.
"The fundamental rights and liberties of Americans are too precious to entrust to someone who spent more than a decade trying to narrow them," Neas said.
The U.S. Chamber of Commerce says Roberts' sterling reputation as one of Washington's best appellate lawyers factored into its decision.
"Roberts has attracted broad, bipartisan support for his fairness, keen intellect, open-mindedness, and judicious practice of the law," said Tom Donohue, the chamber's president and CEO. "He is highly regarded and well respected by the legal and business communities."
The chamber is the world's largest business federation, representing more than 3 million businesses and organizations.
Roberts did some work for the chamber during his time as a private attorney. He represented the U.S. Chamber of Commerce in a battle over a Maine law designed to lower drug prices for state residents who lacked insurance coverage.

Thanks for reading CBS NEWS.
Create your free account or log in
for more features.