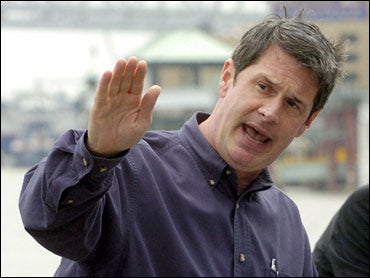 Senator Caught In "D.C. Madam" Scandal
Louisiana Sen. David Vitter, whose telephone number was disclosed by the so-called "D.C. Madam" accused of running a prostitution ring, says he is sorry for a "serious sin" and that he has already made peace with his wife.
"This was a very serious sin in my past for which I am, of course, completely responsible," Vitter said Monday in a printed statement. "Several years ago, I asked for and received forgiveness from God and my wife in confession and marriage counseling. Out of respect for my family, I will keep my discussion of the matter there — with God and them. But I certainly offer my deep and sincere apologies to all I have disappointed and let down in any way."
The Republican senator's spokesman, Joel Digrado, confirmed the statement Monday evening in an e-mail to The Associated Press.
It said his telephone number was on old phone records of Pamela Martin and Associates before he ran for the Senate.
Deborah Jeane Palfrey is accused by federal prosecutors of racketeering by running a prostitution ring that netted more than $2 million over 13 years, beginning in 1993. She contends that her escort service, Pamela Martin and Associates, was a legitimate business.
Louisiana's Democratic governor, Kathleen Blanco, issued a statement saying she was "disappointed" over the revelation and hoped it wouldn't hurt the state's efforts to secure federal funding for rebuilding homes damaged by hurricanes Katrina and Rita.
"I will travel to Washington in the coming weeks to continue my conversations with congressional leaders, and I hope this scandal will not lessen their critical support of our recovery," Blanco said.
A Harvard graduate and Rhodes scholar, the 46-year-old Vitter was elected to his current office in 2004, becoming the first Republican from Louisiana elected to the Senate since Reconstruction. He represented Louisiana's 1st Congressional District in the House from 1999 to 2004.
In the House, Vitter succeeded GOP Rep. Robert Livingston, who was in line to replace Newt Gingrich as speaker until Livingston admitted to extramarital affairs and quit Congress. Livingston had been a critic of President Clinton, calling on him to resign over his affair with Monica Lewinsky.
Vitter and his wife, Wendy, live in Metairie, La., with their four children.
Vitter said his wife has forgiven him, but CBS News correspondent Bob Fuss reports she seemed less forgiving in an interview in 2000 when President Clinton's adultery was in the news.
"I'm a lot more like Lorena Bobbitt than Hillary," she said. "If he does something like that, I'm walking away with one thing, and it's not alimony, trust me."
Lorena Bobbitt, in a 1993 case that drew worldwide attention, cut-off her husband's penis during an argument.
Vitter, a first-term senator, has a prominent role in the campaign of former New York Mayor Rudy Giuliani, who is leading the Republican field in national polls.
As Giuliani's regional campaign chairman for the South, Vitter could prove another headache for Giuliani, who has faced a spate of bad news, including the federal cocaine indictment of his South Carolina chairman, state Treasurer Thomas Ravenel. Giuilani has also been under fire for refusing to fire Monsignor Alan Placa, a Catholic priest and childhood friend suspended from the church over abuse allegations, from Giuliani's security consulting firm.
Palfrey's attorney, Montgomery Blair Sibley, told the AP, "I'm stunned that someone would be apologizing for this." He said Palfrey had posted the phone numbers of her escort service's clients online Monday, but that he had not been aware Vitter's number was among them. Vitter's statement was sent to the AP's New Orleans bureau Monday evening.
Until Vitter's admission, the most prominent client of Palfrey's to emerge was senior State Department official Randall Tobias, who resigned from his post in April after ABC confronted him about his use of the service.
Palfrey's Web site contains several pages phone records, but no names, dating from August 1994 to August 2006. Palfrey wrote on the Web site that she believed a disk containing the records had been pirated, and said she was posting the records "to thwart any possible distorted version and to ensure the integrity of the information."
Palfrey revealed details of her escort service on ABC's news magazine "20/20" on May 4. At the time, ABC said it could not link any information in records from 2002 to 2006, provided by Palfrey, to members of Congress or White House officials but did find links to prominent business executives, NASA officials and at least five military officers.

Thanks for reading CBS NEWS.
Create your free account or log in
for more features.