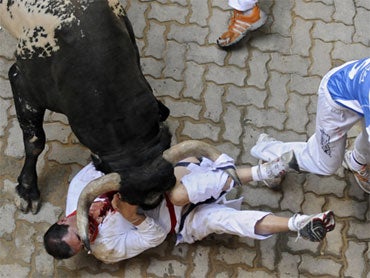 Senate To Nix Malpractice Lids?
A bill that would impose strict limits on jury awards in medical malpractice cases — a central element of President Bush's plan to revamp tort law — appears headed for defeat in the Senate, but the majority leader, Bill Frist, intends to introduce the measure on Monday anyway, forcing a vote that could be used against Democrats in the next election, The New York Times reports on its Web site in a story for its Sunday editions.
The bill, similar to one the House passed in March, would limit awards for pain and suffering to $250,000, the Times says.
The bill has no Democratic sponsors, and Republican leaders, including Frist and Senator Mitch McConnell, the Republican whip who will manage the bill on the floor, concede they do not have the 60 votes needed to overcome a filibuster, the newspaper notes. "It's going to be difficult," McConnell said.
A vote could occur as early as Wednesday. But proponents say that even if they lose, as expected, the issue is not dead for this Congress.
Instead, explains the Times, Frist, who has made malpractice changes a signature issue, hopes the vote will force lawmakers to take a stand. That would expose them to more pressure from lobbyists, and might yield a compromise later in the year.
On Thursday, a group that opposes Frist's position called on him to remove himself from the debate because he and his family own substantial investments that would benefit from limits on medical liability. The group, the Foundation for Taxpayer and Consumer rights, said the family's holdings in HCA, the nation's largest for-profit hospital chain, and a subsidiary, Health Care Indemnity, the fifth-largest medical malpractice insurer, created a conflict of interest.
The broad issue of overhauling the laws governing liability in lawsuits has been a perennial dividing line between Democrats and Republicans, and because of the rising costs of medical liability insurance, this aspect of the issue has been especially potent this year, the Times points out.
With medical liability premiums rising and some doctors leaving their practices as a result, proponents of malpractice changes say caps on jury awards are necessary.
Doctors, insurers and business groups, all of whom contribute substantially to Republicans, are lobbying heavily for the bill, the Times reports.
But opponents, mainly trial lawyers and consumer groups and the Democrats they support, say the bill, modeled after a California law, would deprive malpractice victims of their day in court without solving the insurance problem, the newspaper says. They insist the $250,000 cap is too restrictive.
"We have tried during the first six months of the year to see if we can't build a bipartisan consensus on this, and thus far have been unsuccessful," Frist spokesman Bob Stevenson told the Times. He added, "We view this as a long march, and this is the beginning of it."
That march may well extend until the next election, in 2004. Some Democrats — who complained that Frist is circumventing Senate procedure by bringing the measure up for a vote before it has been considered in committee — maintained to the Times that Frist is using the vote to generate a political issue for Republicans.
Republicans made it clear to the newspaper that they intended to use the vote against Democrats. "Women are having trouble finding obstetricians to be able to deliver their babies," said Senator John Ensign (R, Nevada), the chief sponsor of the measure. "In states like Nevada, doctors are leaving in droves, and that kind of scenario is repeating itself over and over around the country," he said. "As voters become aware of it, I think you're going to see the change of minds of senators who may now be against it. We bring it up for a vote now, and it may cost them in the next election."
McConnell agreed. "It's important for everybody to go on record," he said. "If we don't act, I think it's a certainty that it will be an issue in next year's election."
Because most controversial legislation needs 60 votes to pass the Senate, Democrats will have at least two opportunities to defeat the measure on the Senate floor, the Times notes. A spokesman for Senator Tom Daschle of South Dakota, the Democratic leader, told the Times he had not decided how to proceed.
Senator Richard J. Durbin, Democrat of Illinois, said to the Times he hoped there would be a full debate, because he was developing an alternative that would offer doctors tax credits to give them some relief from insurance premiums.
Durbin said his bill would also curb the insurance industry's exemption from antitrust laws — a move that a number of Democrats, including Senator Patrick J. Leahy of Vermont, argued would exert downward pressure on rates. "The premiums that are being charged to doctors are outrageous and I think we need to do something," Mr. Durbin said.
With a Republican in the White House and Republicans controlling both houses of Congress, proponents of malpractice-law changes have been hopeful that this year they would finally achieve their goal, the Times reports.
But the newspaper relates that some now sound gloomy. "This represents our best offer," said Kate Sullivan, director of health care policy at the United States Chamber of Commerce, adding, "My fear is if we take a vote right now and we lose the vote, then this is bad for the 108th Congress, which runs through 2004."
But the Times report officials of the American Medical Association, which made medical liability legislation its main priority in Washington, remain — in public at least — upbeat. "We believe it's the best opportunity for national medical liability reform that were seeing, certainly in my lifetime, and we still remain optimistic," said Dr. Donald J. Palmisano, the association's president.
Both sides are lobbying hard.

Thanks for reading CBS NEWS.
Create your free account or log in
for more features.