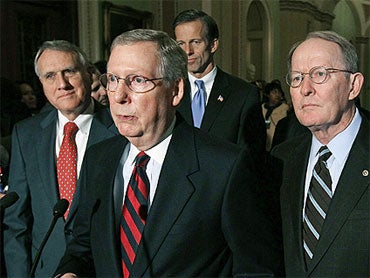 Senate GOP Pledge to Block Dems' Legislation
Updated 4:13 p.m. ET
Senate Republicans intend to block action on virtually all Democratic-backed legislation unrelated to tax cuts and government spending in the current postelection session of Congress, according to a letter recently delivered to Senate Majority Leader Harry Reid pledging to carry out that strategy, which was signed by all 42 Republican Senators.
"We write to inform you that we will not agree to invoke cloture on the motion to proceed to any legislative item until the Senate has acted to fund the government and we have prevented the tax increase that is currently awaiting all American taxpayers," reads the letter.
"With little time left in this Congressional session, legislative scheduling should be focused on these critical priorities. While there are other items that might ultimately be worthy of the Senate's attention, we cannot agree to prioritize any matters above the critical issues of funding the government and preventing a job-killing tax hike," the letter continues.
If carried out, it would doom Democratic-backed attempts to end the Pentagon's practice of discharging openly gay members of the military service and give legal status to young illegal immigrants who join the military or attend college.
What's Next in "Don't Ask, Don't Tell" Fight?
Pentagon: Repeal of Ban on Gays is Low Risk
Senate Majority Leader Harry Reid has made both measures a priority as Democrats attempt to enact legislation long sought by groups that supported them in the recent midterm elections.
The revelation came as a handful of Republican leaders met President Obama at the White House Tuesday, for what Mr. Obama described as a "productive" discussion about how to bridge gaps between the two parties on tax cuts and other policy matters.
Mr. Obama and the senior GOP members emerged from the White House with an agreement to begin negotiations on a compromise to "break through this logjam," as the president put it, on how to extend the Bush-era tax cuts that expire at the end of the year, but CBS Radio News White House correspondent Mark Knoller says, in reality, they found little common ground.
In a statement on Wednesday, Reid lambasted the GOP for employing what he described as a strategy of obstruction. "Republicans have simply put in writing the political strategy they have pursued over the last two years: obstruct and delay critical help for struggling Americans, and then blame others for the problems they refuse to solve," Reid said. "This strategy is very cynical but very obvious and transparent."
A nuclear arms treaty with Russia that President Obama wants ratified would not be affected by the GOP Senators' letter, since any debate would take place under different rules than those that apply to legislation. Even so, its passage is not assured as Republicans are seeking concessions from the White House.
Putin: Resistance to Nuclear START Treaty "Dumb"
Medvedev Warns of New Arms Race if Treaty Stalls
"The START treaty will be done by Christmas," White House press secretary Robert Gibbs said definitively, calling the international disarmament pact, "tremendously important for our security."
In a Wednesday press briefing, Gibbs added that he was "not hung up on their letter."
Senate Democrats need 60 votes to overcome any delaying tactics, and the commitment of all 42 Republican Senators will likely thwart their legislative efforts.
Democrats' chances of passing politically charged legislation will dim when the new Congress convenes in January, since Republicans will take control of the House and gain more Senate seats.
The letter comes after comments by Senate Republican Leader Mitch McConnell and others in his party that the voters made it clear in the elections they want lawmakers to focus on economic issues.
"Despite what some Democrats in Congress have suggested, voters did not signal they wanted more cooperation on the Democrats' big-government policies that most Americans oppose," McConnell and incoming House Speaker John Boehner, R-Ohio, wrote in an op-ed article published in the Washington Post.
Thanks for reading CBS NEWS.
Create your free account or log in
for more features.