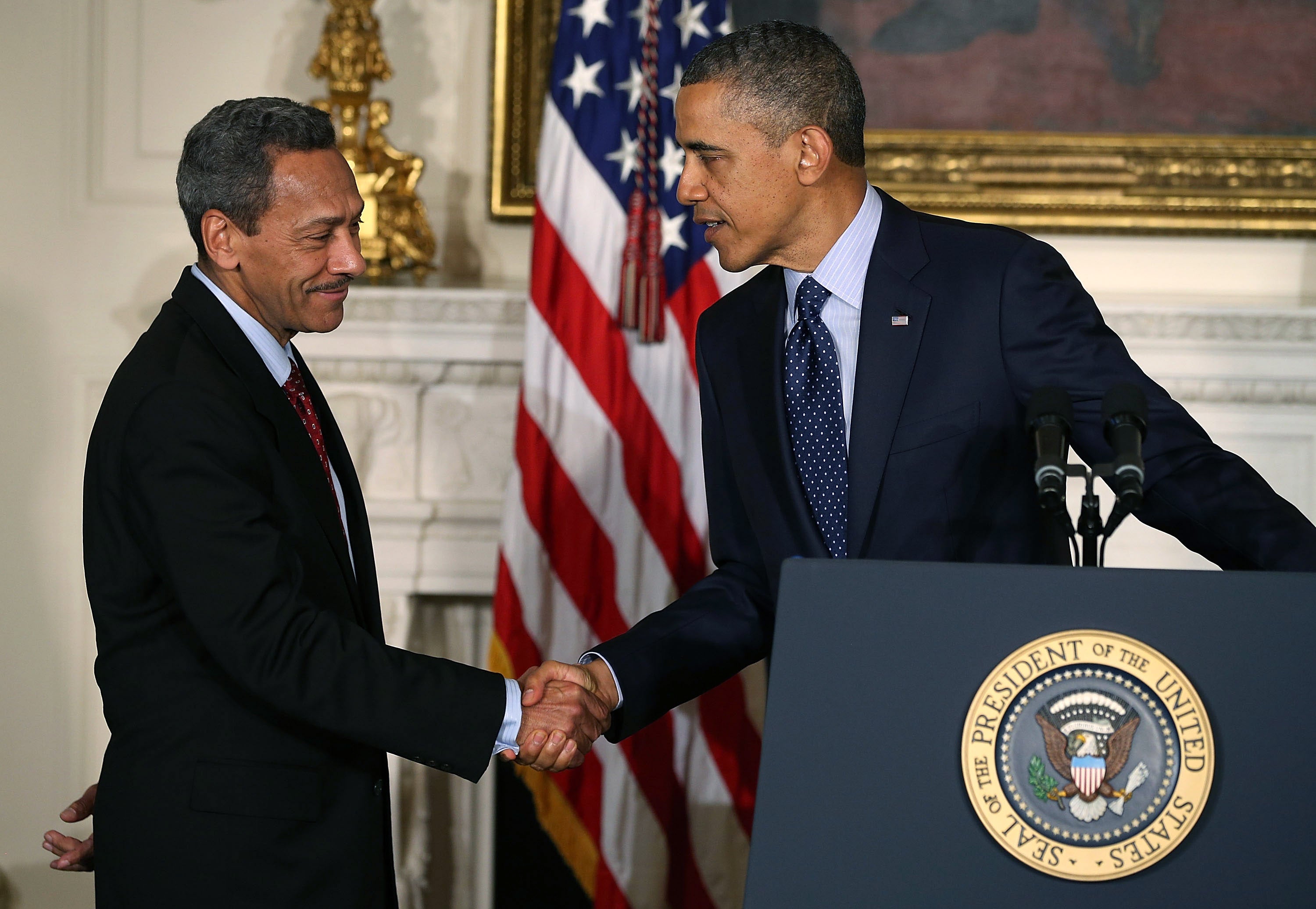 Senate Democrats confirm two Obama nominees
Democrats overwhelmed outnumbered Republicans and pushed a pair of President Barack Obama's high-profile nominees through the Senate on Tuesday, the first to win confirmation since the chamber weakened the age-old filibuster.
By 56-38, senators confirmed attorney Patricia Millett to join the influential U.S. Court of Appeals for the District of Columbia Circuit. Her approval tilts that circuit's judges 5-4 toward those appointed by Democratic presidents, an important advantage for a court that rules on White House and federal agency actions.
The Senate then used a 57-41 roll call to confirm Rep. Mel Watt, D-N.C., to lead the Federal Housing Finance Agency. That bureau oversees the two giant taxpayer-owned home lenders, Fannie Mae and Freddie Mac.
Watt's approval came after Democrats took advantage of the eased rules for ending filibusters and senators voted 57-40 to halt GOP delays that had blocked his nomination since Obama announced it in May. Until the changes, 60 votes would have been needed to end that blockade.
Later, senators voted 56-42 to end a filibuster against the nomination of attorney Cornelia "Nina" Pillard for another vacancy on the D.C. circuit. Her confirmation was expected later this week.
The votes came nearly three weeks after Democrats overpowered Republicans and made it harder for the Senate minority party - currently the GOP - to use filibusters, or procedural delays, to block nominations.
Filibusters for nearly all nominations, but not legislation, can now be ended by a simple majority vote instead of the 60 required since 1975. For decades before that, an even bigger margin, two-thirds, was needed to halt the delays.
Democrats and their allies hailed Tuesday's votes as a triumph, with more to come.
"The minority caucus has dedicated the last five years to paralyzing the Senate," said Sen. Jeff Merkley, D-Ore., among a cadre of newer Democratic senators who helped push party leaders to change filibusters. "Today I saw as a good sign."
In retaliation for the filibuster changes, Republicans used the Senate's own procedures Tuesday to slow its work, and said they would continue doing so.
They forced several procedural votes before Watt's nomination could be approved and did the same on Pillard. They also blocked permission - usually granted routinely - for a pair of committees to meet for more than two hours while the Senate was in session.
"It says that what they've done is wrong and there's a price to be paid for that," Sen. Orrin Hatch, R-Utah, said of the GOP response. "These are not itty bitty problems."
"For the president and his enablers in Congress, the ends now clearly justify the means," said Senate Minority Leader Mitch McConnell, R-Ky. "And that's a very dangerous place for us to be."
With Republicans talking about using all the debate time that Senate rules allow, Majority Leader Harry Reid, D-Nev., has threatened to hold evening and weekend sessions.
The nomination fight is intensifying at the start of what Reid has planned as a final two-week stretch before adjourning for the year. During that time he wants approval of an emerging budget deal, a huge defense bill and perhaps other measures.
Reid also wants the Senate to confirm three other major Obama nominees during this period.
They are U.S. District Judge Robert Wilkins, who with Pillard would fill the two remaining D.C. circuit vacancies; Janet Yellen to chair the Federal Reserve and Jeh Johnson to head the Department of Homeland Security.
All are expected to win approval.
Millett works in the Supreme Court practice at Akin Gump, one of the capital's largest law firms. A Harvard Law School graduate, she served as an assistant to the solicitor general under presidents Bill Clinton and George W. Bush and has argued 32 cases before the Supreme Court.
Two Republicans joined Democrats in confirming her Tuesday: Sens. Lisa Murkowski of Alaska and Susan Collins of Maine.
Obama praised Millett's confirmation, saying in a statement, "I'm confident she will serve with distinction on the federal bench."
He also lauded Watt's approval, calling him "the right person to protect Americans who work hard and play by the rules every day" and "to make sure the kind of crisis we just went through never happens again."
Sens. Rob Portman of Ohio and Richard Burr of North Carolina were the only Republicans to vote to confirm Watt.
Members of both political parties want to wind down both Fannie and Freddie in hopes of reducing taxpayers' risks. Republicans generally want federal regulators to force both companies to focus more on profitability, while Democrats want them to make housing loans more affordable for consumers.
Underscoring those differences, Rep. Jeb Hensarling, R-Texas, chairman of the House Financial Services Committee, praised Edward DeMarco, Watt's Bush-appointed predecessor, for putting "the interest of hard-working taxpayers first." He said Watt should continue DeMarco's policies.
Fannie and Freddie were bailed out by taxpayers in 2008 as both struggled to survive under the weight of mortgage loans that had gone bad. The two companies own or guarantee about half of all U.S. mortgages, worth about $5 trillion.
During the recent financial crisis, the government provided them with taxpayer aid totaling $187 billion. As the housing market has recovered, both have become profitable and have repaid $146 billion.
Watt has been a major target of Republicans, who say he is not qualified to lead the housing regulatory agency. Democrats say Republicans fear that Watt, a 21-year veteran of the House Financial Services Committee, will be too liberal.
Thanks for reading CBS NEWS.
Create your free account or log in
for more features.