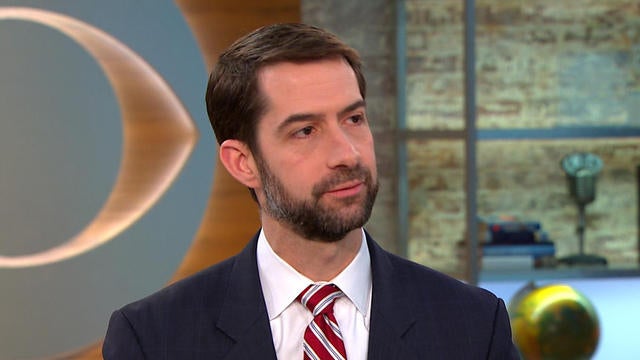 Sen. Tom Cotton discusses the angry constituents he faced at a town hall
Sen. Tom Cotton on Friday discussed the angry constituents he faced at an Arkansas town hall who pressed him this week about Obamacare, President Trump's proposed border wall and Mr. Trump's tax returns.
"Do your job, do your job!" the crowd in the 2,200-person venue chanted at the GOP senator's town hall. In an interview on "CBS This Morning," Cotton was asked to react to the fierce opposition.
"Obviously, we had a lot of people in that room who disagreed with me...part of our job is to listen to those people I represent," Cotton said. "I tried to listen to their concerns, but also explain some of the reasons why, for instance, I think Obamacare -- although I can see that it's helped some people -- has helped or has hurt many more."
Cotton said that Obamacare has made the healthcare system worse, and predicted that Republicans would reach an agreement on a repeal and replacement plan this year.
"I think we're going to get to an agreement this year," he said, adding that he doesn't think it would take as long as the time it took for Democrats to craft Obamacare.
Asked what the replacement might entail, Cotton said there are a lot of ideas, and that he would favor a system that moves from subsidies that the government pays directly to insurers to tax credits that empower individuals to make the right choices. He also said he wants to eliminate mandates that require people to buy health insurance that they don't need.
"We absolutely want to make sure that people who have preexisting conditions can get health insurance," he said when asked if he supports the coverage of preexisting conditions.
Thanks for reading CBS NEWS.
Create your free account or log in
for more features.