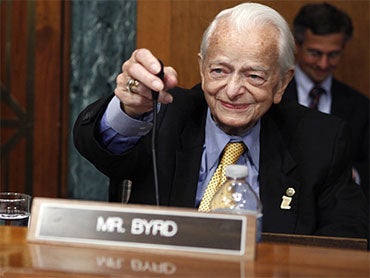 Sen. Robert Byrd of West Virginia Dies at 92
Updated 2:37 p.m. ET
Robert Byrd, who rose from an impoverished childhood to become the longest-serving U.S. Senator in history, died Monday at the age of 92.
Byrd, a Democrat, held his seat for more than 50 years, including six years as Senate Majority Leader. At the time of his death, he was third in line to the presidency.
Byrd died peacefully at around 3 a.m. Monday at a hospital in Fairfax, Va. He had been there since last week, and has been in frail health for several years.
President Barack Obama said the Senate "has lost a venerable institution, and America has lost a voice of principle and reason."
"He held the deepest respect of members of both parties, and he was generous with his time and advice, something I appreciated greatly as a young senator," Mr. Obama said in a statement.
Flags at the White House and the Capitol flew at half-staff Monday.
Pork or Progress? Sen. Byrd Leaves Legacy
Robert Byrd Photo Gallery
Sen. Robert Byrd, 1917-2010
The Senate Republican leader, Mitch McConnell of Kentucky, said Byrd will be remembered for "his fighter's spirit, his abiding faith, and for the many times he recalled the Senate to its purposes.
"No senator came to care more about the Constitution and be a more effective defender of our constitutional government than the senior senator from West Virginia," Committee Chairman Patrick Leahy, D-Vt., said in his opening remarks. "In many ways, he was the keeper of the Senate flame, the fiercest defender of the Senate's constitutional role and prerogatives."
He was praised by former President Jimmy Carter as a valuable adviser with an ability to "forge prevailing coalitions," and credited with getting the votes instrumental in overcoming strong Republican opposition to passing the Panama Canal treaty.
Sen. Jay Rockefeller, a fellow West Virginian in the Senate, said it was his "greatest privilege" to serve with Byrd.
"I looked up to him, I fought next to him, and I am deeply saddened that he is gone," Rockefeller said.
Vice President Joe Biden remembered Byrd's presence: "A guy who was there when I was a 29-year-old kid being sworn into the United States Senate . . . a guy who stood in the rain, in a pouring rain, freezing rain outside a church as I buried my daughter and my wife.
"We lost the dean of the United States Senate, but also the state of West Virginia lost its most fierce advocate and, as I said, I lost a dear friend."
Sen. John Kerry, D-Mass., said that Byrd "did more thinking and reevaluating in his eighties and nineties than many Senators do in a lifetime. He surprised many with his fierce opposition to the war in Iraq and the evolving views about energy and climate change he articulated even in his last year in the Senate.
"On these and so many occasions, he was prescient. Whether you agreed or disagreed with his positions, he was one of a rare group of senior voices whose thoughtful speeches could bring the entire Senate to a halt as we learned in to listen," Kerry said. "He cared immensely about his country and fought as proudly for his state as any Senator in our history.
"He leaves behind a remarkable example of what it means to be an engaged public citizen."
From Backing Vietnam, to Opposing Iraq
Byrd's politics evolved over his career. As a young man, he was a member of the racist Ku Klux Klan for a brief period, and he fought against landmark civil rights legislation in 1964. He later apologized for both actions, saying intolerance has no place in America.
Byrd grew up in poverty in the hard coal fields of West Virginia where he learned to play the fiddle, even performing at the Grand Ole Opry, reports CBS News correspondent Whit Johnson.
After six years in the West Virginia legislature, Byrd was elected to the U.S. House in 1952 in a race in which his brief Klan membership became an issue. He said he joined because of its anti-communism.
He went on to become, by all accounts, one of the hardest working senators in modern history. He went to law school at night, receiving his degree at age 45 from President Kennedy. He wrote a four-volume history of the Senate. He was the unequalled master of Senate rules, and climbed to the top of the ladder as 12 years as Democratic leader, Johnson reports.
Byrd entered Congress as one of its most conservative Democrats. His views gradually moderated, particularly on economic issues, but he always sided with his state's coal interests in confrontations with environmentalists.
He was an early supporter of the Vietnam War, yet was one of the Senate's strongest voices against the Iraq war at a time that many Democrats backed it. He felt gratified when public opinion swung behind him.
"The people are becoming more and more aware that we were hoodwinked, that the leaders of this country misrepresented or exaggerated the necessity for invading Iraq," Byrd said.
He cited Iraq when he endorsed then-Sen. Barack Obama for the Democratic presidential nomination in May 2008, calling the Illinois Senator "a shining young statesman, who possesses the personal temperament and courage necessary to extricate our country from this costly misadventure."
Byrd's death followed less than a year after the passing of Edward M. Kennedy, another leading Democrat who had served in the Senate for decades.
It comes as the Senate deals with two of President Obama's top priorities: completing passage of financial overhaul legislation and confirming his nominee to the U.S. Supreme Court, Elena Kagan.
Neither is likely to be derailed by Byrd's death, though delays are possible. West Virginia's Democratic governor, Joe Manchin, will appoint Byrd's replacement, so the party's strong majority should not be affected. An election will be held to fill the rest of Byrd's term, which was to end in January 2013.
The governor told The Associated Press that he will not appoint himself to fill the seat, and had no timetable for naming a replacement.
Manchin admitted to a difficult task facing whomever took Byrd's seat: "There'll never be another Robert C. Byrd. There's no one that we can fill his shoes with."
Byrd's position in the line of presidential succession has now been filled by 85-year-old Sen. Daniel Inouye, D-Hi., who was sworn in as President Pro Tempore of the Senate today.
On Tradition, Pork and the Peloponnesian Wars
Byrd was a fiery orator versed in the classics and a hard-charging power broker. He said he owed his success to the long-suffering people of West Virginia, and he returned the favor by steering billions of dollars and federal government projects to the state, Johnson reports. His critics called him the king of pork. He called that hog wash.
In comportment and style, Byrd often seemed a Senate throwback to a courtlier 19th century. He could recite poetry, quote the Bible and detail the Peloponnesian Wars - and frequently did in Senate debates.
Senate Republican leader, Mitch McConnell said Byrd "combined a devotion to the U.S. Constitution with a deep learning of history to defend the interests of his state and the traditions of the Senate."
Byrd was a master of the Senate's bewildering rules and longtime chairman of the Senate Appropriations Committee, which controls a third of the $3 trillion federal budget. He was willing to use both to reward friends and punish those he viewed as having slighted him.
"Bob is a living encyclopedia, and legislative graveyards are filled with the bones of those who underestimated him," former speaker of the House of Representatives, Democrat Jim Wright, once said in remarks Byrd later displayed in his office.
In 1971, Byrd ousted Kennedy as the Democrats' second in command. He was elected majority leader in 1976 and held the post until Democrats lost control of the Senate four years later. He remained his party's leader through six years in the minority, then spent another two years as majority leader.
Byrd stepped aside as majority leader in 1989 when Democrats sought a more contemporary television spokesman. "I ran the Senate like a stern parent," Byrd wrote in his memoir, "Child of the Appalachian Coalfields." His consolation price was the chairmanship of the Appropriations Committee, with control over almost limitless federal spending.
Within two years, he surpassed his announced five-year goal of making sure more than $1 billion in federal funds was sent back to West Virginia, money used to build highways, bridges, buildings and other facilities, some named after him.
Entire government bureaus opened there. Even the Coast Guard had a facility in the landlocked state. Critics portrayed him as the personification of Congress' thirst for wasteful "pork" spending projects.
In 2006 and with 64 percent of the vote, Byrd won an unprecedented ninth term in the Senate, just months after surpassing Republican Strom Thurmond's record as its longest-serving member. His more than 18,500 roll call votes were another record.
But Byrd also seemed to slow after the death in 2006 of Erma, his wife of almost 69 years. Frail and at times wistful, he used two canes to walk haltingly and needed help from aides to make his way about the Senate. He often hesitated at unscripted moments. By 2009, aides were bringing him to and from the Senate floor in a wheelchair.
Though his hands trembled in later years, Byrd only recently lost his grip on power. Last November he surrendered his chairmanship of the Appropriations Committee.
Byrd's lodestar was protecting the Constitution. He frequently pulled out a dog-eared copy of it from a pocket in one of his trademark three-piece suits. He also defended the Senate in its age-old rivalry with the executive branch, no matter which party held the White House.
Byrd briefly sought the Democratic presidential nomination in 1976 and later told associates he had once been approached by President Richard M. Nixon, a Republican, about accepting an appointment to the Supreme Court.
But he was a creature - and defender - of Congress across a career in Washington that began in 1952 with his election to the House. He served three terms there before winning his Senate seat in 1958, when Dwight D. Eisenhower was in the White House.
In a measure of his tenacity, Byrd took a decade of night courses to earn a law degree in 1963, and completed his long-delayed bachelor's degree at West Virginia's Marshall University in 1994 with correspondence classes.
Robert Carlyle Byrd was born Nov. 20, 1917, in North Carolina, as Cornelius Calvin Sale Jr., the youngest of five children.
Before he was 1, his mother died and his father sent him to live with an aunt and uncle, Vlurma and Titus Byrd, who renamed him and moved to the coal-mining town of Stotesbury, West Virginia. He didn't learn his original name until he was 16 and his real birthday until he was 54.
Byrd's foster father was a miner who frequently changed jobs, and Byrd recalled that the family's house was "without electricity, ... no running water, no telephone, a little wooden outhouse."
He graduated from high school but could not afford college. Married in 1936 to high school sweetheart Erma Ora James - with whom he had two daughters - he pumped gas, cut meat and during World War II was a shipyard welder.
Returning to meat cutting in West Virginia, he became popular for his fundamentalist Bible lectures. A leader of the Ku Klux Klan suggested he run for office.
He won his first race - for the state's House of Delegates - in 1946, distinguishing himself from 12 rivals by singing and fiddling mountain tunes. His fiddle became a fixture; he later played it on the television show "Hee Haw" and recorded an album. He abandoned it only after a grandson's traumatic death in 1982 and when his shaky hands left him unable to play.
At his 90th birthday party in 2007, however, Byrd joined bluegrass band Lonesome Highway in singing a few tunes and topped off the night with a rendition of "Old Joe Clark."
Thanks for reading CBS NEWS.
Create your free account or log in
for more features.