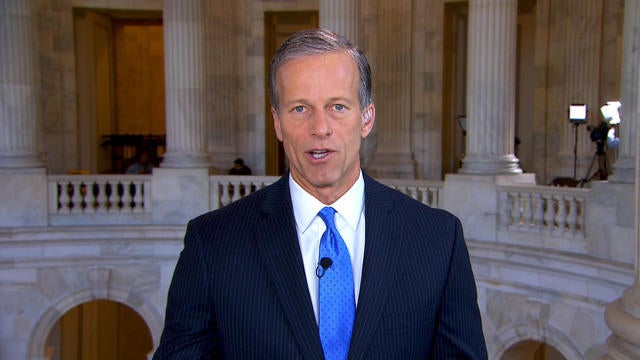 Sen. John Thune on data privacy: "It's time for Congress to exercise some oversight"
Sen. John Thune, R-South Dakota, says its time for Congress to step in and "exercise some oversight" on the issue of data privacy as Facebook CEO Mark Zuckerberg is set to testify on Capitol Hill on the protection of its users' data in the wake of the Cambridge Analytica scandal.
While lawmakers are just asking how Facebook allowed for political consulting firm Cambridge Analytica to obtain data on as many as 87 million users, some politicians are now questioning if regulations should be in place to prevent similar cases of data harvesting from ever happening again.
"We'll determine after we do that whether or not there are steps that need to be taken in the form of regulation or legislation going forward, but right now we want to get the answers and we think Facebook needs to be accountable, transparent and I'm glad Mr. Zuckerberg is appearing today," Thune told "CBS This Morning" on Tuesday.
Thune, who serves as chairman of the Senate Commerce, Science, and Transportation Committee, says he hopes to hear what steps are being taken moving forward to protect users data and to see if the Cambridge Analaytica scandal is "more pervasive than we originally thought."
"Are there other firms or businesses out there that had access to this data and may have misused it?" Thune asked.
Thune met with Zuckerberg privately on Monday ahead of his appearance on Tuesday. He said the Facebook CEO expressed that "he wants to take this head on, which I think he needs to."
"Facebook has to step up, take responsibility for what happened and tell us what they're going to do in the future to protect users data and what they're going to do proactively to stop the harmful conduct that now they've had to go back and apologize for," said Thune.
The Republican said that Zuckerberg's testimony matters because more Americans are growing concerned about their privacy.
"The whole issue of social media and its influence in our lives and the data they have access to is going to be an ongoing issue now," said Thune.
He added, "We're going to try to get to the bottom of this and I think it's entirely likely sometime in the future that Cambridge Analytica and perhaps other firms may be called in to talk about how they got access to this data, how they used it and whether not when they were told to, shut it down."
Thanks for reading CBS NEWS.
Create your free account or log in
for more features.