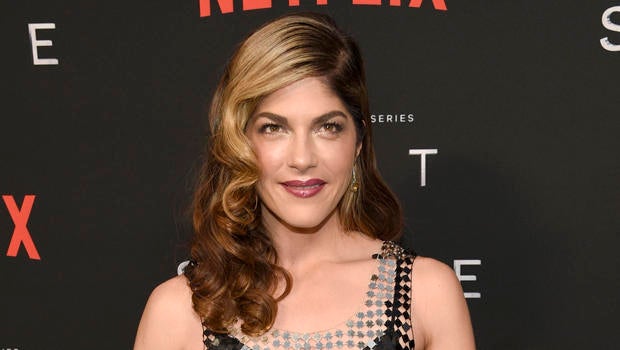 Actress Selma Blair reveals multiple sclerosis diagnosis
Actress Selma Blair, most famous for her roles in films like "Legally Blonde" and "Cruel Intentions," is back on set for a new Netflix project, while facing a new challenge. In a selfie she posted to her Instagram account Saturday, the actress revealed she was diagnosed with multiple sclerosis back in August.
The 46-year-old star writes, "I am in the thick of it but I hope to give some hope to others. And even to myself."
Blair's revelation that she has multiple sclerosis, or MS, is being met by an outpouring of support (her Instagram post was "liked" by nearly 90,000 people), and is bringing new attention to a nervous system disease that can cause pain and numbness, and loss of vision and motor functions. Nearly one million people in the U.S. live with the disease. There is no cure, but treatment can help manage symptoms and slow its progression.
"We know that it's an abnormality of the immune system, but we don't know what sets it off," said neurologist Dr. Fred Lublin, director of the Corinne Goldsmith Dickinson Center for Multiple Sclerosis at Mount Sinai Hospital in New York City.
In those affected by MS, the body's immune system eats away at the protective covering of nerves, disrupting communication between the brain and the body. Studies suggest the risk of developing the disease is increased by both genetic and environmental factors, including smoking, low vitamin D, and adolescent obesity.
"MS affects women about three times as often as men, and that ratio actually has been going up," said Dr. Lublin. "There are hormonal possibilities that are being investigated, but it's not yet entirely clear why that difference exists."
Blair is in her mid-40s. Researchers say most people are diagnosed between ages 20 and 50, with a wide range of symptoms.
Lublin said, "There are some people who may go through their entire lives and never know that they have MS, and then there are some people who can have very severe disability from the disease – and everything in-between."
Other public figures with MS include Ann Romney, Jack Osbourne, and Montel Williams.
"We have 15 different treatments that are on the market at present that alter the course of the illness," Dr. Lublin said. "We have lots and lots of individuals who lead normal productive lives."
As Blair writes, "I want to play with my son again. I want to walk down the street and ride my horse. I have MS and I am OK."
Blair plans to continue her work, starring in the upcoming Netflix series "Another Life." By putting yet another public face on MS, Blair could help others to recognize potential symptoms and meet with their doctor.
See also:
Thanks for reading CBS NEWS.
Create your free account or log in
for more features.