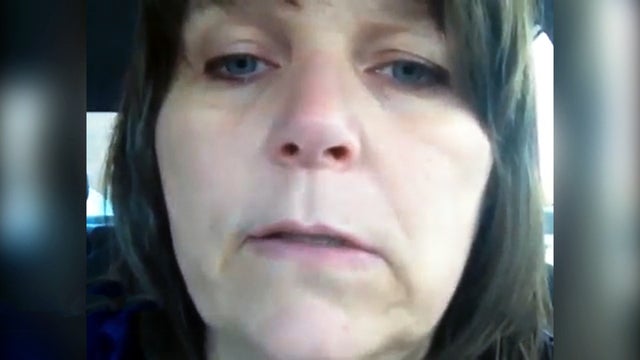 Selfie diagnosis: Woman captures minor stroke as it was happening
Legal secretary Stacey Yepes, 49, was driving home from work on a normal April day when she felt a sensation that she knew wasn't right.
She pulled over the car and hit record on her smartphone and described what she was experiencing.
"The sensation is happening again," Yepes said as she struggled to talk in the video.
She points to her tongue and says "it's all tingling on the left side."
Yepes breathes in and out as doctors had advised her to do.
"I don't know why this is happening to me," she said.
A few days before this episode, Yepes went to the hospital to get checked out by doctors after she felt stroke-like symptoms. Doctors told her at the time it was probably due to stress.
But she was not convinced that what happened to her wasn't a stroke - which is what prompted her to decide to record the experience when it occurred again a few days later.
"So now I'm taking a picture for an example of what happens," Yepes said in the video.
After the symptoms had passed, she headed to the hospital and later was referred to the Krembil Neuroscience Center at Toronto Western Hospital.
Doctors there told her she probably experienced a "mini-stroke" or transient ischemic attack (TIA) - which is caused by blood clots.
Based on test results, doctors concluded Yepes had experienced a small stroke.
"I thought I was leading a healthy lifestyle, but since I work two jobs I had a lot of stress in my life, was often eating on the go and didn't have time to exercise regularly," Yeppes said in an University Health Network Toronto news release. "The (Transient Ischemic Attack and Minor Stroke) TAMS Unit has really taught me a new way of living and how to address these areas so I don't have another stroke."
Yepes' neurologist, Dr. Cheryl Jaigobin, said strokes can happen to younger people who appear to be living healthy lifestyles.
"Strokes can affect people of any age even if they have few risk factors, so it's very important to be aware and to know the signs of a stroke," Jaigobin said in a news release.
Jaigobin advises everyone to be "proactive about their health and aware of any changes as they age, especially people with a family history of stroke or heart disease."
According to the American Stroke Association, about 795,000 Americans suffer a stroke each year, and 137,000 die, making it the fourth leading cause of death in this country.
Yepes said people should not dismiss any symptoms once they start to feel it.
"My advice to others is, if you think you're having or had a stroke, don't wait. Go to the hospital and get checked out," she said.
Thanks for reading CBS NEWS.
Create your free account or log in
for more features.