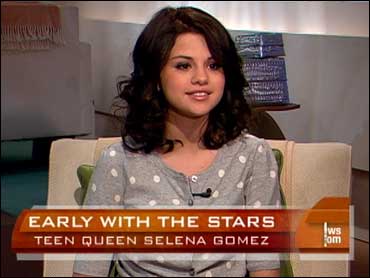 Selena Gomez: Proud Of Start On "Barney"
Not many celebrities can say that they got a jumpstart on their acting career alongside a giant purple dinosaur named "Barney."
But for Disney Channel star Selena Gomez, that is just what happened.
"I learned everything from that show ("Barney & Friends"). So it's such a wonderful memory to me. A lot of people would be embarrassed to say they were on 'Barney' but I embrace the fact and I had such a wonderful time doing that show," Gomez told Early Show co-anchor Maggie Rodriguez.
At only 16, Gomez has a hit show on the Disney Channel called "Wizards of Waverly Place" along with being a movie star and successful singer. She can even add youngest spokesperson ever for UNICEF to her list of accomplishments.
While on "Barney & Friends," Gomez met her best friend and fellow Disney Channel star, Demi Lovato, who played Angela.
"We're going through the madness together. Thank goodness," she admitted. "I'm so blessed and I'm so happy that she's there because you meet a lot of people that you may not be able to trust, so I'm happy that I have her."
Rodriguez commended Gomez and her best friend, Lovato, for being good role models in such a tough industry.
"I'm glad that my job is to be a role model. But, at the same time, we're all 16-year-olds and we're going to make mistakes. I'm going to try my hardest to make those mistakes to myself and not let it interfere with my connection to my fans whatsoever," Gomez said.
Gomez, who was named after the late Tejano singer Selena, also admits that she stays on track with the help of her parents.
"Absolutely. It's my parents a hundred percent. They are always there to tell me 'no' and make sure that they'll take me right back to Texas and they will show me where I came from," she said.
In a way, Gomez said that she has sort of followed in Selena's footsteps, because she likes to sing as well.
"I kind of think that. I'm the reincarnation of her," she joked.
Ultimately, Gomez admits that her heart is in acting.
"I have a passion for music as well, but I think I would see my career focusing more on acting," she said.
Disney Channel's "Wizards of Waverly Place" has become a huge hit.
"I'm so happy," she said. "I remember we had to pay people to watch our show the first season and now we have fans that come every single week. It's great."
Thanks for reading CBS NEWS.
Create your free account or log in
for more features.