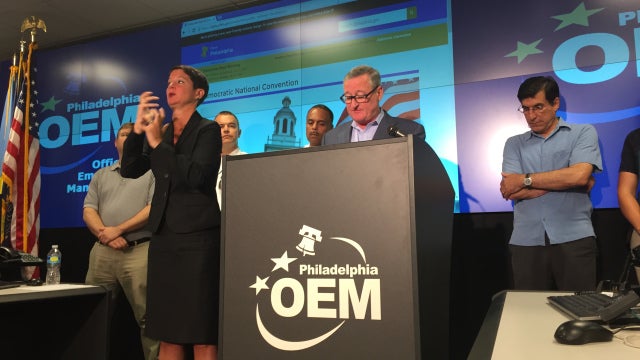 Security ramped up in Philadelphia ahead of DNC
PHILADELPHIA -- With the convention in town, the population of Philadelphia is growing by at least 50,000.
The city's police force of more than 6,000 officers says it is ready for anything.
Thousands of people marched in downtown Philadelphia this afternoon. They were noisy, but peaceful.
In 2000, at the last political convention here, there were hundreds of arrests.
Police say they are prepared if demonstrations get out of hand this week.
Thirty-five-thousand to 50,000 protesters are expected each day. The city has purchased more than $250 million in insurance to cover potential damage and another $5 million in case any of the city's 6,000 police officers is sued.
The designated protest zone is about four miles away from downtown, within view of the convention site.
Former Philadelphia police commissioner Charles Ramsey said it's the unexpected that keeps commanders up at night.
"Somethings going to happen that's going to be unexpected and how well are you going to handle that, how flexible will you be, effectively deal with it," he said.
In a command center at an undisclosed location, the secret service will monitor what's happening.
"We prepare for a variety of scenarios," Special Agent in Charge James Henry said. "Many, many different types of threats anything from a lone gunman, an organized attack, an aircraft that comes into restricted air space."
Within the last two weeks SWAT teams, hostage rescue units and counter sniper teams, tested their tactical response plan. They worked through different scenarios including an attack on a facility and an ambush on a motorcade. One other concern though is independent lone wolf attacks.
Thanks for reading CBS NEWS.
Create your free account or log in
for more features.