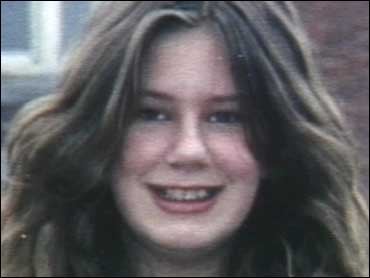 By outward appearances, Christina Long didn't seem like a troubled teen. She was a cheerleader, an altar girl and a 6th-grade honor student at St. Peter's Catholic School in Danbury, Conn.
But Christina's life came to end last May, when the 13-year-old was killed by a man she had met online.
Her story may have been one of the first Internet-related deaths of a child, but it is not an isolated case, reports Correspondent Vicki Mabrey in a broadcast that first aired last fall.
Even FBI and police stings haven't stopped the huge increase in children who are targeted online for sex. The reason may lie in the very nature of the Internet itself.
Investigators say it's fueling a new class of sexual deviant that defies a conventional profile. And as Christina Long's case illustrates, it's not only the predators who are leading secret lives on the Web.
Christina lived with her aunt Shelley Riling. Her parents' divorce had been bitter and her mother moved away. Christina continued to see her father on weekends, and Riling tried to make her life as normal as possible, providing her niece with everything a teenager could want, including a new computer.
Riling says she would periodically check on Christina's computer use.
"Without letting her know I was invading her privacy," says Riling. "I would just come in and check on her. But I would do it like, 'So, whatcha doin'?' You know, trying to be curious. And I would look over her shoulder, and she would usually be talking to St. Peter's kids that I knew."
The only time Christina was unsupervised was on Friday nights, when she went to the mall with her friends. Riling always picked her up promptly at 9 o'clock. But when she arrived on May 17, there was no sign of Christina.
Riling called the Danbury police. When investigators turned to her computer for clues about where she might have gone, they discovered she had secretly changed her email password. When the detectives got America Online to grant them access, Riling made a shocking discovery.
"I realized that she was talking to strangers," Riling says, "not kids from school. This one boy was saying, 'I'm sorry; I'm glad you got your period. I'm glad you're not pregnant. And I'll wear a condom the next time.' And that was really shocking to see that. Very shocking."
Police also learned that Christina had had a secret sexual encounter only a week earlier with another man – his screen name was "Hot es300" – and that she had planned to meet him again May 17, the night she disappeared. Investigators soon tracked Hot es300 to Saul Dos Reis, 24, a Brazilian national who worked in his family's restaurant and lived with his wife in Greenwich, Conn.
At first, police officers say, he told them he had seen Christina that night, but had dropped her back at the Danbury mall. But after intense questioning, Dos Reis reportedly changed his story and led police to Christina's body, face-up in a stream near his home. She had been strangled.
Charged in her death, Dos Reis pleaded not guilty and is awaiting trial. When 60 Minutes II interviewed him in prison, he said Christina had approached him online. He claims an instant message from Christina popped up on his computer screen one day and they began chatting online.
"Everybody has, like, a profile as a member of American Online," he said. "And then you can search people with the same interests and talk to them."
Their shared interest, he said, was fast cars – his screen name Hot es300 is taken from a the name of a Lexus model. But police say there's a lot more to it than that.
Dos Reis denied being a sexual predator. "That's how people portray me in the media, but that's not who I am," he said.
According to the prosecution, he knew Christina was a minor and he lured her, telling her she was "attractive and sexy" and promising her a present. At their first meeting, police say, they had sex in his car in a McDonald's parking lot near the Danbury mall. Later, he asked for suggestive photos to show his friends. "We definitely got to show them something wild right," he wrote by email.
"I was just trying to make another friend," Dos Reis said.

---

Riling says she had warned her niece about chat rooms, and had no idea Christina was talking to strangers.

"I felt safer with her being in the house than being outside playing with her friends, because she was right here, where, you know, I would think she was safe," says Riling. "You don't realize that a computer predator is like practically in the same room as your child. And that's what happens when they're on the Internet. It's like they're visiting her in her room."

At home, Christina was online talking graphically about sex and had created her own Web site. She was using the screen name "Long2HotForYou." Her aunt guesses that she was exploring her sexuality through the anonymity of the Internet, which is remarkably typical, says former FBI profiler Ken Lanning.

"Every kid is unique, and in some ways maybe she did things more than another kid," says Lanning, who has spent 20 years studying both the behavior of sex offenders and their victims.

For investigators like Lanning, Christina Long's case brings to light a disturbing truth that they say society is reluctant to talk about: Many of the young victims are not forced or even tricked into these meetings. They go willingly.

"I want to make it clear so there's no misunderstanding," he says. "When an adult and a child have sex, the adult is the offender; the child is the victim. Always, all the time, that's just the way it is. But in some cases the victim may be compliant."

Pointing out that most children want to eat too much candy, stay out too late or do other things that are not good for them, Lanning says, "It shouldn't be surprising that an adolescent boy or girl wants to have sex with somebody that's older. It is the adult's responsibility that, even if propositioned, even if the child comes to you, the adult is supposed to say no."

According to police, Dos Reis confessed to strangling Christina Long as they were having sex. Police say it was a dangerous form of sex that went too far.

"I'm not a killer," Dos Reis told Mabrey.

He claims he tried to save Christina by administering CPR. "If he could see he was in trouble, why didn't he take her to the hospital," asks her aunt. "Why didn't he try to save her?"

---

One of Dos Reis' lawyers, Peter Tilem, interrupted the interview and took issue with the police reports. He said, off camera, that police improperly obtained statements from his client.

Dos Reis faces federal charges that include using the Internet to entice a minor for sex, as well as state charges that include manslaughter and sexual assault. He faces a sentence of up to 130 years in prison. Lanning says this indicates how seriously law enforcement is prosecuting Internet sex crimes.

Lanning says predators use Internet pornography and chat rooms to reinforce each other's behavior and it emboldens those who otherwise might not have acted out. Even more importantly, the Internet provides an easy and initially anonymous way for men to gain the trust of their young victims. This plays into another characteristic of offenders: they usually don't stop at just one.

After his interview with Mabrey, prosecutors indicted Saul Dos Reis on charges of using the Internet to lure another underage girl for sex in 1998.

Meanwhile, Riling is still trying to understand why her niece led a secret life on the Internet, even though she had been warned of the dangers.

"I think she was afraid to tell me [that she was sexually active] because she was afraid that I wouldn't love her if she was," says Riling. "And, of course, I would have loved her. I just wished she would have told me. Because then, you know, I could have helped her. And she would still be alive."

Thanks for reading CBS NEWS.
Create your free account or log in
for more features.