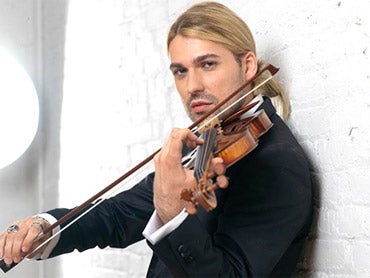 Second Cup Cafe: David Garrett
Violinist David Garrett has garnered worldwide attention for his fresh new take on classical music, gathering a very devoted audience of a much younger genre than most classical artists.
Born in Aachen, Germany with an American ballerina mother and a German lawyer father, Garrett and his family were nurturing his international solo career since his early childhood. But by his teens, he was subject to a grueling schedule of symphonic concerts and recordings. By then, he longed to escape that life. Without telling his parents, he fled to New York, where his life revolved around rock, clubbing, and a seemingly deserved rebellion, abandoning the classical violin.
Garrett's music has earned him gold- and platinum-selling albums all over the world, and has topped the charts in Germany, Austria, Switzerland, the Far East and has made top 20 charts in the U.K.
In the U.S., Garrett was named Billboard's best selling new classical music artist of 2009, and earned the No. 9 spot of out of artists in all genres. His self-titled debut album came out at No. 1 on the classical crossover chart and remained there for a solid 31 weeks.
Garrett has been featured on television shows like "Fox & Friends" and "E! News."
His new album, "Rock Symphonies," brings together Garrett's love of classical music as well as his love of today's pop genre.
Garrett's musical idols include Jimi Hendrix and Jimmy Page as well as his teachers, Itzhak Perlman and Ida Haendel. He has worked very hard on this concept of an album mixing rock with classical music, saying that he thought about it for a very long time.
For Garrett, there has always been a very strong bond between classical music and rock. He says that there is such a strong connection because of the strong rhythm both genres have, and the strong sense of precision that is found in both.
What will you be able to find on his new album? Garrett has brought us sounds like an innovative mash-up of U2's "Vertigo" with Vivaldi's "Four Seasons," and a revisiting of Beethoven's Fifth Symphony, with a headbanger spin.
But Garrett would not refer to this as a cover album. The musician notes that he has tried to view every song from a new angle and often changing the character of each piece. Of course, Garrett has used no vocals in any of his tracks, which he says gives him even more musical freedom.

Thanks for reading CBS NEWS.
Create your free account or log in
for more features.